Star Wars Land Coming To Disney Parks

It's about time Disney reimagined Star Tours. The seats are tattered, the seatbelts stick, and the technology feels dated despite the 1987 getting an update in 2011. So it's epic news that a full-on Star Wars Land is coming to Hollywood Studios and Disneyland.

Each park will grow 14 acres to accommodate the themed area (sure hope they come up with a better label though; maybe Intergalactic World?) where guests will find themselves on an unfamiliar planet, in a trading port and the last stop before the final frontier.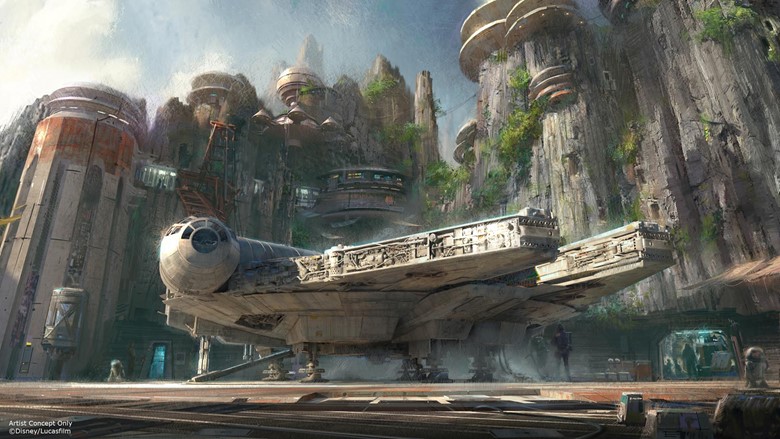 The two main attractions will involve flying the Millennium Falcon on a customized secret mission and participating in an epic battle between the First Order and the Resistance. The immersive environment of Star Wars Land will also include stores manned by "locals" and a Cantina. There's no timeline yet for these rides which are said to be located in the Big Thunder Ranch Area but that doesn't mean there won't be something new for Star Wars fans sooner rather than later.

Later this year, Star Tours itself will be renovated to feature the creatures and worlds from "Star Wars: The Force Awakens" coming to theaters in December. And the Jedi Training Academy will include new characters and a new villain from the Disney XD series, "Star Wars Rebels."

Look for "Season of the Force" to begin in early 2016 at both Walt Disney World and Disneyland Resorts. Disneyland's Tomorrowland will have a Star Wars galaxy with special entertainment, themed food locations and a suped-up Space Mountain called Hyperspace Mountain, to takes guests on an X-wing Starfighter battle. At Disney's Hollywood Studios, you'll find a new weekend fireworks spectacular set to the Star Wars theme music. Star Wars Weekends will continue as well.

Disney CEO Bob Iger announced the addition of Star Wars Land at the D23 Fan Expo August 15, stating that it is the biggest single-themed expansion/refurbishment ever at Disney.

By the way, Pandora is scheduled to open in 2017 in Disney World's Animal Kingdom. The homage to Avatar will be filled with jungles, floating mountains, those blue-skinned Na'vi, and two signature rides: AVATAR Flight of Passage will transport guests on dragon-like Banshee creatures over Pandora, and the whole family can take a gentle boat ride through Pandora's bioluminescent rainforests.
And just to get you amped, take a look at the latest Star Wars Teaser: