Summer Shred and the Gear That Makes It Great

With only a few ski areas left to welcome the smattering of diehards still aching to arch the glacial corn from 8 a.m. to 2 p.m., we can officially call an end to an historic 2016/17 ski season. But summer shredding isn't over just yet.
Snowbird, Utah, reported the longest season in the Beehive State with nearly 600" of snowfall. Although they fought to provide turns on Father's Day (and some hoped the 4th of July), the mountain closed this past Sunday. Boohoo. Wasatch mountain temps skyrocketed into the 80s last week, baking the edges around the deep alpine snow patches creating some unsafe conditions and a lot more dirt to hike through. Arapahoe Basin, Colo., which also tends to be a late bloomer will also close for the season June 11.
It may not be Utah's or Colorado's endless winter this year but over on the west coast, Blackcomb, B.C., Timberline, Ore., Mammoth Mountain and Squaw Valley, California, are determined to have skiing alongside their summer activities. Oh, and Mt Bachelor, Ore., just announced that they will reopen for JULYSKI 2017, July 2-4.
The west saw so much snow this season that bases will most likely carry into 2017/18. Staying open year round for Timberline is a no brainer but Mammoth currently has a 120 inches at Main Lodge and over 270 inches at the summit and locals say they might break their record for the longest season in history. They plan to operate daily into August and possibly longer. Buy your 2018 season pass and you can ski all summer too.
BTW, you can do the same at Snowbird if you buy your season pass now. But if you already have a season pass from somewhere else, Snowbird is letting you ride for half off. That's a $27 lift ticket!
Squaw is another area that entices you to buy a season pass early. Use it to ski through the 4th of July before it kicks in officially in November. Lifts spin on Saturdays and Sundays through June, and then they party for a three-day Freedom Fest, July 1-4. Live music mid mountain pays tribute to the Jerry Garcia Band concert that took place near there in 1991. There will also be music daily at the High Camp pool and hot tub, free shows at KT Base Bar and a fireworks show on Monday night.
Most folks are finally ready for summer; for the rain to stop, the snow to melt, the warm skies to shine and the opportunity to slap on flipflops and tank tops. But if you're one of those who still wants to hang onto winter without going to the Southern Hemisphere here are a few
Must haves for spring, er, summer shredding.
Shred Goggles – Two-time Olympic Gold Medalist Ted "Shred" Ligety knows something about skiing year-round. So trust him when he makes goggles that kick butt on summer sun. The Shred Smartefy won't fog no matter how heated your dome gets. It has a spherical lens with a dramatically wide field of vision so you can spot bikini-clad Betties from anywhere. The contrast boosting lens (CBL) allows you to see just as well in flat light as bright sun and, even though the lens doesn't look super dark to the naked eye, it provides plenty of UVA, UVB, UVC protection. The NoDistortion tech in the lenses prevents, yes, distortion you get from a curved lens at altitude while the high quality "Whipped Cream" multilayer face foam ensures that this go-to goggle fits under just about every helmet. Plus, it won't pack down like most foams so you can count on them for next season too.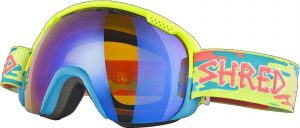 Miists Sunscreen– If you hate those little, hard-to-open packets of sunscreen and don't have room for a tube or bottle in your pocket, Miists has the perfect solution. The flat "mister" contains an SPF 50 broad spectrum non-comedogenic greaseless formula that's ultra-portable and water resistant for up to 80 minutes.
Black Diamond Deployment Hybrid Hoody is the ultimate four-season softshell jacket. It's a warm, breathable, comfortable mid-layer in winter but owns the show for spring and summer. You'll only need this lightweight, breathable beauty when you're on the hill- or rock- this summer. It may not have pit zips but you won't need them with the PrimaLoft Silver Hi-Loft Insulation and temperature regulating merino wool blend fabric at the underarms that's both moisture wicking and itch-free. It cuts wind, insulates yet breathes while having that ultra-durable stretch thanks to the Ultralight Schoeller outer fabric.