Furry Friends Need #PinnacleHealthyPets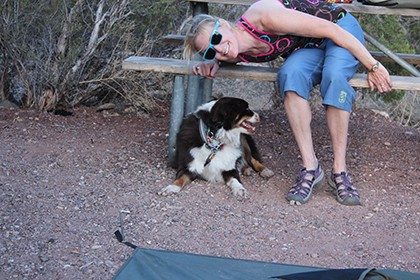 Damn dog, I thought as I tumbled slow motion over the rocks in the Lava Flow caves. Takoda goes everywhere with us even into the caves of St George's Snow Canyon and just like when others join in, the outcome is often unpredictable.
As we made our way into the cavern's belly, Takoda was third in line behind Sage and in front of me. But he stopped and I didn't. I fell over him- butt over tea kettle- settling upside down in a pile of rocks. No bones broken or torn ligaments; just some bloody scrapes, a soon-to-be magenta hip bruise and a mystified expression on my face as my boyfriend looked behind to see me in a heap. The dog pretty much had this look like, "please don't blame me; you're the one with balance issues.":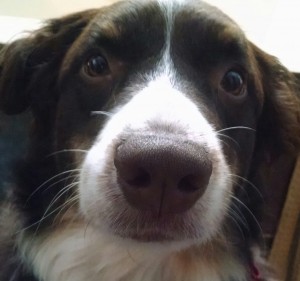 "Luckily, we brought that pet first aid kit," I thought as Ryan helped me up and I noticed the gash on my ankle. But, guess what?, pets don't use Bandaids! It got me thinking. We pet owners consider our four-footed friends like little people; our kids. It's not until some injury or vet-mandated attention that we get the reality check. Dogs can't eat grapes and they don't wear Bandaids.
We do our best to take good care of the kids- feeding them natural, healthy ingredients that give them the nutrition they need for long days on the trail or in a cave. I've read that Pinnacle ® Grain Free Dog Food provides your pet with exactly that so I'm anxious to test it out. Pinnacle's grain-free, limited ingredient list includes items like quinoa, sweet potato, pumpkin, sea kelp, and cottage cheese. It's made in the U.S. (California) and I've got a bag with my name on it, on its way. Takoda can soon chow down on the antioxidants that support a healthy immune system, on fiber for digestion, and proteins for healthy joints and muscle tone.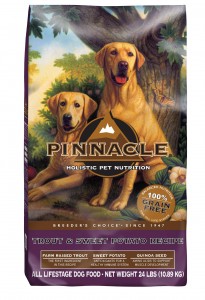 A trail injury is a scary proposition. Let's hope that with experience and proper nutrition we can ward off the doctor by making sure we have healthy pets in the first place. Then maybe my dude can scoot along better so I don't look like the klutz I am.
Click the logo to find a store near you!
Follow Pinnacle on Twitter and Facebook for tips on keeping your pets healthy and active.