Cavalia Odysseo Ticket Giveaway!

You would have to be a hermit not to notice the giant white big top tent off of I-15 in Sandy, Utah. Like any true thrill-seeker, I adore watching athletes in motion and Cavalia Inc.'s Odysseo has tried to draw me in ever since those horsey billboards went up all over that area. Watching uber-talented aerial and acrobatic artists never ceases to drop my jaw and widen my eyes.

I was running out of time. Soon the popular Cirque Du Soleil-like show will pull up stakes and the space in front of the South Town Mall and Momentum Climbing Gym will turn back into a parking lot. They had already extended their run twice. What is drawing crowds of up to 2000 a night to spend $100 + on a ticket is not just the circus athletes performing in a world of enchanting music, elaborate lights and sets that create an ethereal ambiance but the inclusion of majestic stallions (and geldings). These 65 beautiful animals are front and center for this masterful evening.

The email came last week offering me tickets to see the show before it ended. I jumped at the chance. Odysseo is said to be the largest touring production on earth with a tent the size of an NFL football stadium- or the Maverick Center Ice Rink. I had to see this for myself. Nearly 50 riders, acrobats, musicians, aerialists, and dancers from around the world performing with horses!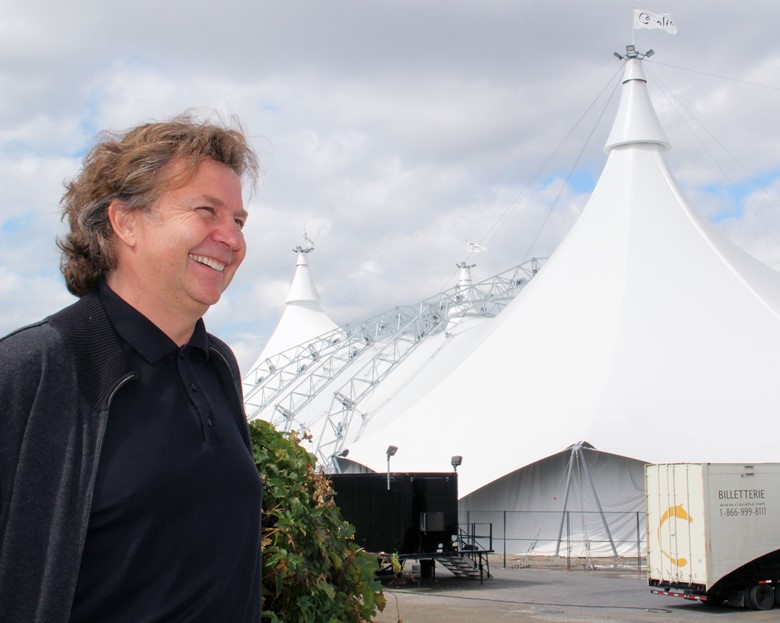 The family friendly evening was imagined by Normand Latourelle, one of the co-founders of Cirque du Soleil; with his first show, Cavalia, premiering in 2003. The similarities of Cavalia to Cirque are no surprise. Odysseo is Cavalia Inc's second touring show and has mesmerized more than 1.8 million spectators in Canada, the United States, and Mexico.

The mechanics of a show this size are enough to steal your breath. There's a life-size merry-go-round that descends from the ceiling, a three-story hillside for the horses and riders to prance through and an underground drain system built to release 40,000 gallons of recycled water onto the stage to create a lake for the show's finale. I gotta say that there's nothing more romantic than watching unbridled horses charge through water. A virtual waterfall backdrop assists in the surrealism. Everything about this show dazzles.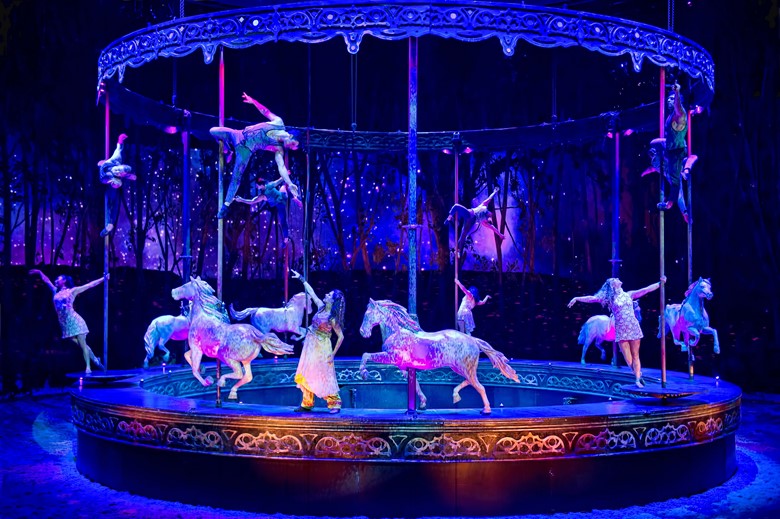 As beautiful as the performances were, however, I do wish there had been a cohesive story that tied the two and a half hour production together. We move randomly from a misty, enchanted forest under a sky of rolling clouds to far-off places like the Mongolian steppes, the African savannah and Easter Island. I would have liked to feel for the players rather than just be wowed by them. That's not to say what you do get isn't spectacular; it is. My 9- year-old had dreams of horseplay for the next week. A night under the Cavalia big top is a night you'll never forget.

Cavalia Odysseo runs through June 13. See the website for dates and ticket information. Use the SOCIALUT promotional code for a 10% discount. If you want to take your chances at a pair of free tickets to this coming Saturday's show, enter the giveaway below. But hurry! The contest closes at noon Thursday, June 2.