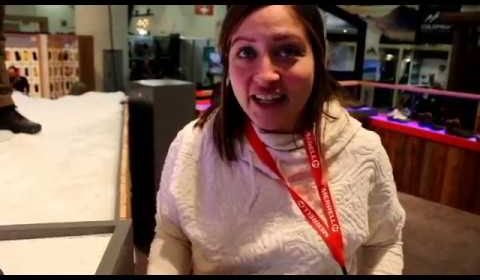 I knew a man who slipped shoveling his driveway and died. It really sucked. Just walking on a sidewalk he's walked for decades. We never think a slip and fall is going to lead to anything more than a bruised ego. But it can. Winter traction matters.
Vibram's Partner in Winter Traction
Outdoor out sole manufacturer Vibram has partnered exclusively with Wolverine Worldwide to ensure winter traction in their footwear brands this season kick butt on ice so it doesn't kick yours. Their Arctic Grip product is taking the winter ice to task.
If you don't want to slip in the winter you put chains on your tires and serious lugs on your feet. But up until this season those "lugs" still needed added protection for even everyday walking. Kahtoola Microspikes, Stabilcers, Icebugs, YakTrax. There are all sorts of over-sole devices on the market for winter traction. Vibram's Arctic Grip technology, however, stands alone.
Several styles from Merrell, Sperry, Saucony, Hush Puppies, CAT, and Wolverine feature this advanced cold-weather gripping system. Vibram has been working on the technology for more than two years and was quite hush about its properties at the Outdoor Retailer Winter Show this year. All they would hint at was that it was a rubber compound with an advanced filler system. Vibram claims they have up to "three times better" winter traction than any other Vibram sole for over 200 miles of use. Your shoes will even warn you if the roads are slick that day because the thermochromatic lugs change color when temps dips below 32 degrees.
Naming The Models For Winter Traction
The shoes from Wolverine Worldwide sporting the new outsole for winter traction include – Merrell Moab FST, Capra Collection and the Aurora 6  CAT Footwear Stiction HI WP Ice+,  Hush Puppies Parkview Ice+, Sperry Cold Bay Ice+, Saucony Razor Ice+, Wolverine Crossbuck FX Ice+.