9 Months Old and a Summer O Fun

I don't write in my blog often enough. Time blips by faster than the paint chips from my nails. Sage is a healthy 20 pounds at 9 months old. She's apparently as big as most people's 2 year olds! She's outgrown her newborn clothes and now wearing 12-18 month stuff (so if anyone needs some cute little baby girly things, speak up!). She's not crawling and that's my fault. How can you blame me? She's so sweet sitting on my bed, playing quietly with her Whoozit and alphabet blocks. Not to mention that I've read babies who take longer to walk are more intelligent than their twinkle-toed counterparts. Did I tell you that Sage is learning to swim? Well, not really but she's getting time in the water. She likes to grab her ankles like a breakdancer rather than do the backstroke when you hold her belly up to the sun but it makes everyone laugh and she smiles that stunning toothless grin. She blows raspberries on a regular basis so we've used that as a way to introduce blowing bubbles in the water and she's perfected the underwater pass without choking or wailing.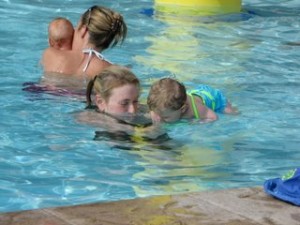 Of course, it would be too much to expect that she would kick in the water but perhaps by the end of the summer… It's still early. I'd rather have her swim than crawl. It's safer in these parts. Crawling amid my clutter is a recipe for disaster.
Instead, she gets time in the jumper and the exersaucer and has learned to scoot backwards on her back when she feels like a change of scenery. She talks up a storm, sleeps 10-12 hours a night (with naps during the day), sits for hours without getting fussy (just ask the PR team for Reno), claps and waves. We think she's the cutest baby on Earth. But I know that's hormonal or something. I hear the same from other mothers – "my baby could be on the cover of magazines", then I look at their baby and think "uh, not." But what can you really say? Disagree? I'm not shallow, every baby is beautiful. It's an uncontaminated soul filled with inspiration, imagination and sparkling eyes and laughing heart. How can that be 'ugly'? But on a strictly esthetic level, there are some definitely ugly babies out there. I look back at newborn photos of Sage and think, ugh, she was not cute. But my OB-GYN swears Sage was a beautiful newborn. OK, I'll believe her.
Sage gets cuter by the day, though. I'm constantly mesmerized by her little hands and big blue eyes. (go to
www.dropshots.com/pcskigal
to see).
Enough baby gushing. It's been a busy May. We all flew to Reno for their annual River Fest at the beginning of the month. I sooo wish we had a river like the Truckee running through downtown Salt Lake where they could establish a whitewater park and I could practice my Eskimo rolls. For Memorial Weekend, we roadtripped (8 hours) to Telluride, Colo. for the MountainFilm Festival. The antithesis of Sundance, this Fest was subdued, intellectual and inviting to locals. We had no trouble getting into the flicks that interested us. Be on the lookout for a Canadian documentary called Sharkwater. It's a powerful plea to save the sharks the way we rallied to rescue whales and seals. It showed a soft side to those sharp-toothed creatures you would never believe.
I have to stay home for a while now to catch up and pack up. I begin construction in two months. Don Bloxom, a Park City designer, has some pretty impressive ways to spend the equity in my home. When it's all done I will have a new mother-in-law apartment for the grandmas to have 'space', a giant clutter-free (I hope) office with soundbooth and a built-in play area for Sage, and the master bathroom I've been dreaming about since I first moved here. Though ten years ago I settled for a spacious walk-in closet with a window and a phonebooth sized bathroom with only a shower, I never gave up my fantasy of a jetted tub with a view of the Wasatch, and a "thunder room" to wall off Ryan's, er, emissions. The closet becomes the bathroom, the bathroom, the closet. Voile!
I'll need some extra income to pay off the loan so if you know anyone looking for female voice or acting talent, an editor or writer, send them my way. I'm off to bed. It's quite late around here – my favorite time of day.