Can Skiing Be Politically Correct?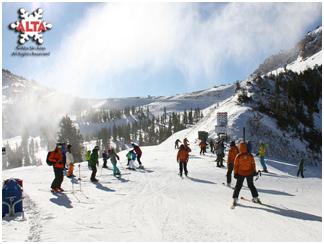 I did it again. Open mouth, insert foot. Anyone who knows me gets that I'm one of the most un- politically correct people they'll ever meet. Problem is not as many people know me as are offended by the things that come out of my mouth. It's a good thing I'm a writer. My fingers are much more diplomatic. So why am I pissed at my lips? I say things – out loud- that most people just think. It's like professional Tourettes. I love meeting people and getting to know who they are and what they do. Then I say something and I see the moment of disbelief flash on their face. Did she really just say that?
I stand up at the Park City Chamber Fall Ski Industry luncheon today in front of the panel of resort managers who are happy to paint a rosy picture of the ski industry and pat themselves on the back; and I say- "Several times the speakers have brought up that Utah needs to grow our season pass sales. Yet while places like Colorado and California are lowering their pass prices and creating multi-resort passes at bargain rates, Utah continues to increase theirs. What can Utah do to attract more passholders?"* I knew as soon as the words spilled from my mouth I had entered enemy waters. NSAA President Michael Berry shuts me down- "We don't talk about pricing here. That's a trade secret. It's a complex process and we can just say that a lot goes into price structure." The panel falls in line. Jamie Pentz, the publisher of Mountain Magazine who came to town for the event and to meet with advertisers (i.e. his panel peers) defends Utah's practice- "The people in the Front Range (of Colorado) and the Sierras don't play well together. They've created a dog-eat-dog world because they're competing for skiers in the Bay Area and Denver. I can tell you that guests from Texas aren't having the best experience at Vail with the extra 5000 skiers on the mountain. Utah resorts are all friends. They do play well."
I'm sure if I wasn't rubbing my butt from the spanking I might have uttered something about anti-trust and collusion. Good thing my tongue had gone limp. Pentz adds that Steamboat's pass is $1200. As if to say it's ok to have high pass prices. What he didn't add was that for an extra $75 you also get unlimited skiing at Winter Park. Canyons' Mike Gore adds something about value not necessarily being linked to cheap tickets and they move on. My question left unanswered. In fact, one guy passing me leans in and says, "Way to dodge the question, huh?" And I feel slightly validated. I wasn't imagining things.
After the panel is released, I stand up and mingle. PCMR's Krista Parry turns and hugs me. Says I look great. She reminds me that her hill actually IS doing something to encourage locals to ski. Not only did they create the STARTNOW program, but they added a tiered season pass to alleviate the sticker shock of going from paying $125 to learn to ski to plopping down $1500 for a pass. "We want to keep those people coming back," she said. Yep, PCMR currently has the cheapest full season pass on the Wasatch Front at $825. Do I leave it there? Things are good, cut my losses. No. Referring to the unanswered emails I have sent her in the past two weeks because she wanted to get together, I then say, "You never call me back." "I was gone all week," she says. "But you never call me back," I say with a lilt, now referring to countless other times over the years. "I do," she says. And I reply, wait for it……."Only when there's a story involved." SHIT. There it is again. Did I really just say that out loud? My Tourettes is not winning fans. There's an awkward moment and then we have plans for breakfast next week. "You'll call me to set a date?" I ask. "I will, I promise," she says. I slither away.
I did have the opportunity to shake Mr. Pentz' hand and engage him in a one-on-one chat. At first I wasn't going to chance it. Seeing as how I had already muddied the water. But what the hell. My disease knows no bounds. We discuss how Salt Lake City is a much different animal from Denver or the Bay Area. Those people ski. Utahns don't; at least not en mass. He nods in agreement. Maybe I'm not so obnoxious after all. While those Colorado Front Range resorts compete for Denver skiers, no one here really competes for Salt Lake skiers. They should. Utah locals take a backseat to destination guests. Earlier in the lunch they brought up that Utah is in the middle of the pack when it comes to overall skier visits across the country. Some asked how Utah could move up in the rankings. Berry said that in order to get people so amped about a destination that they tell all their friends and come back regularly, the community has to be behind it. Utah needs to support skiing. Skiing needs to support Utah.
What happens when the weather's bad, the economy tanks, flights are grounded? It's the locals that will keep ski areas alive. The Ski Utah 5th and 6th Grade Passport program is an ok start – especially when out-of-towners can also take advantage of it- but who has to take the kids to the mountain? Moms and dads. Skiing is a family sport yet there are no deals for the rest of the family. Guess what? Mom just may decide that gas, time and a full-price adult ticket outweigh that free pass for Junior. Pentz is starting to see my point(s).
We talk about his publication. Mountain started three years ago. "I saw the direction Bonnier was taking SKI and Skiing and didn't want any part of it," he explains. "How could I go to advertisers and ask them to pay more for less?" And now I interject, "So how is your publication different from SKI?" Yikes! Really? I asked that? Pentz is insulted. I should already know the answer, of course. He rolls his eyes and humors me with an explanation but I have now become irrelevant. "We have a voice they don't. They can't touch what we do. For one thing, we don't teach. There's no instruction in our publication. We thought we'd appeal to destination travelers but we sell through 90 percent of our issues at Whole Foods. Locals are reading us too. " Gotcha. It was nice meeting you, I'd love to write for your magazine, do you have a card on you? I conclude and quickly exit.
As I sat in my car in the Chateaux Parking garage, I dropped my head on the steering wheel. You would think that after all these years, after all this time swooning around the ski industry, I would figure out this tact thing. I guess it is getting a little better, I thought as I revved the engine. A person next to me this morning smelled like a brewery but I didn't say a word; I thought quite a few but they never escaped my head. I haven't given up hope that one day I will control my Tourettes completely. For today, I take heart in the little triumphs.
*For example, you get unlimited skiing at Squaw Valley and Alpine Meadows combined for $799 while Deer Valley's season pass is more than $2k this year.