Stop the Bleeding! Save Money Before the Ski Season Starts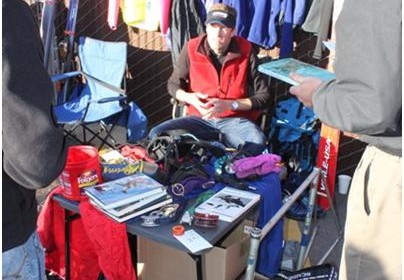 Locals' ticket packs, Powder Cards, season passes. All too soon you'll have missed the boat on any savings. BYU is currently running a "Two-Day Pass for One" Person deal for $85. There are a few black-out dates but they don't have to be used consecutively. These have to be purchased in person on game days but you can buy as many as you want. Park City Mountain Resort has their Benefit Day tickets on sale now for $25. Those are good through December 16. One of my favorite deals is the annual Philip66 2for1 stamp card. You fill up four times and you can redeem your card for a two-for-one price at Snowbird's ticket window.

Ski movies are another great way to get deals on lift tickets for the upcoming ski season. Go see Warren Miller and get a free weekday ticket to the Canyons. See the new Matchstick or TRG flicks and get 2 for 1 Bird passes. Once you've got your ticket situation resolved it's time to talk gear. It's easy to drop a grand in one outing when you're outfitting for the season. Take advantage of the biggest and best deals at a Utah Ski Swap. It's like shopping at any retailer in any other city. Ski shops need to clear the floor for new inventory; athletes need to make money by hawking their sponsored gear and families need to unload what their kids have outgrown. It's veritable buffet of prime merchandise well worth a plane ticket if you're in the market for more than one ski jacket.
10/20/12 First comes the Black Diamond Swap (2092 East 3900 South, East Millcreek). This is the pearl to your shopping oyster. People from all over Utah swing into the BD Store's parking lot, throw open their trunks at 7 a.m. and sell sell sell. Get there early if you expect to get the best deals on the best gear. It runs until 2 p.m. There is no charge to buy or sell.

10/26-27/12 Hands down the best place to nab kids gear is at the Rowmark Ski Swap (Lincoln Gymnasium, MS Commons, 970 East 800 South, Salt Lake City). Get there on Friday night ($5pp, kids under 12 free) for the best selection.

10/26-27/12 The Snowbasin Ski Swap (Legacy Events Center, 151 South 1100 W, Farmington) is a relative newcomer but because they ask that no gear be more than five seasons old you stand a good chance at avoiding digging through tons of junk. A portion of the sales goes to The Ogden Valley Winter Sports Foundation (OVWSF). Admission is $5 on Friday, $2 Saturday and free on Sunday.

11/2-4/12 The 40th Annual Park City Ski Swap (Basin Recreation Field House at New Park, 1388 New Main St., Kimball Junction)
is only as good as the person you get to wait in line for you on the first night. The smoking deals are gone by midnight. You can still get serious discounts on everything from base layers to boots but nothing beats what you'll find the first hour the doors open. Admission is $10 on Friday, $5 on Saturday and $2 on Sunday. Children under 12 are free.

Friday, November 2, 8 p.m. – 1 a.m.

Saturday, November 3, 10 a.m. – 6 p.m.

Sunday, November 4, 10 a.m. – 2 p.m.

If you're selling, check in your gear on Oct 29 – Nov 1 at Jans Mt. Outfitters & Cole Sport on Park Ave. FYI- the ski team keeps 30 percent of your sales.

11/2-3/12 That same weekend, cruise into Midway for St. Lawrence Thrift Store's Annual Ski and Snowboard Sale (Zermatt Resort, 784 West Resort Drive). This isn't a place where you can sell your gear. Everything is considered a 'donation' with sales benefitting St. Lawrence. But you never know. You might find that killer ski suit for One Piece Wednesdays.