How To Clean Your Hydration Bladder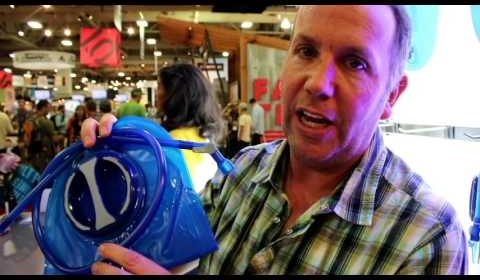 If you can't remember the last time you cleared and cleaned that reservoir in your backpack, this post is for you. And me. In my corner sits three yucky bladders. All because the idea of trying to dig around the inside of them with the impossible task of getting them slimefree was just too much. Such a waste. When I stopped by the Camelbak booth at this year's Outdoor Retailer Show, I just had to ask.
Camelbak's Director of Product Development John Austen knows a thing or ten about keeping your bladder good to go for years.
To Reiterate:
1- Wash your reservoir every few months if you use it regularly. If you put anything other than water in it, then clean after each use.
2- Open, drain and wipe. If deep cleaning use dissolving tablets or a bleach or lemon juice/water mixture.
3- Hang dry with the tube. Get a clamp to open the reservoir up.
4- Roll it up, close it up and stick in your freezer.
Ta Dah!