Maine Chairlift Injures 7 In Freak Accident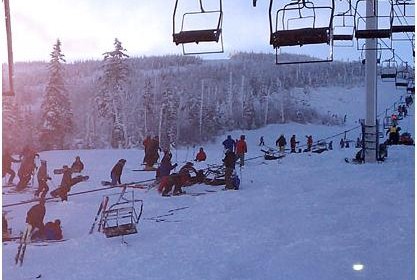 It was a parent's nightmare today as many families witnessed a chairlift accident at Sugarloaf Ski Area in Maine. The King Pine lift's brakes failed around 11:30 a.m., sending about nine chairs backward through the bullwheel and injuring seven guests. While no one was critically hurt, three are resting comfortably now in the hospital. It took operations about two hours to evacuate 204 people from the lift but some had already launched from the lift, attempting to jump to safety before it was too late.

"The lift was dangerous and erratic as it circled the wrong way around the bullwheel at the bottom. Chairs were swinging people off and into the chairlift structure (pole)," said guest David Souweine who happened to think quickly enough to yank out his cellphone and catch the action. "The lift at that location was 10-15 feet with soft snow underneath. The (chairlift accident) injuries were from people swung by the bullwheel (big wheel where the lift changes direction) not from those bailing off the chairs."

"Jumping was the correct and safest action at the time. Gravity will yank the people loaded, backwards, RAPIDLY, into a concrete and steel structure, then spin around 180 degrees with you flying off into said structure," said YouTube's ScottieBoo. "It was the fact the brakes were not kicking in, if it never braked every single person near the top of the lift would be flying backwards at near terminal velocity which is unsafe to jump from."

The fixed-grip quad lift was inspected and certified to operate last October according to a press release on Sugarloaf's website but it is now closed pending a close investigation by the Maine Board of Elevator and Tramway Safety. Sugarloaf is set to host the U.S. Alpine Championship, March 25-29, so this kind of wreck is not the exposure they were hoping for; especially as it was only four seasons ago that Sugarloaf's Spillway East lift derailed, dropping nine chairs to the ground and putting eight people in the hospital.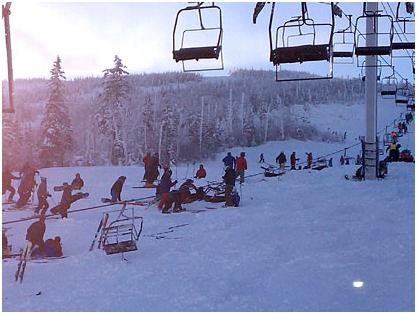 In Utah ski lifts accidents are rare and usually occur when someone falls off. The last time anything mecahnical happened in Utah was in 1966 when two ladies died after being thrown off a scenic, summer lift ride at Sundance Resort.