Don't Say No To Spring Skiing

Two more days. That's what I need to reach my annual (average) goal of 60 days of skiing. I'm close yet I still can't believe that 1) I've skied that many days in the first place (given the decent yet less than consistent snow conditions) and 2) the season will be over for Parkites this Sunday. Another week and only Snowbird and Alta will be left standing. Snowbird says they'll operate Fri-Sun beginning May 9 but if these 60-degree days continue and they get rained on, that could be a pipedream.

Our 2015/16 ski season is almost over and it certainly didn't feel like 60 days of skiing. I'm by no means a rock star. Plenty of friends have broken 100 so I'm not bragging. I had hoped for more. The season started slowly but then a massive storm in December finally kicked things off. The Ski Utah folks will gauge that this was a better season than the last but we won't have final figures until at least July.

Hotel bookings were solid and the holiday morning lines at Park City and Canyons were off the charts. It would be safe to say that Utah resorts fared better than last season. The dirt didn't start to show through until March. Even during the Sundance Film Festival 2016 guests were playing in fresh snow instead of sauntering Main Street in short sleeves.

But then the dry spell hit. Warm temperatures and two-week stretches without a storm were the norm. Cold fronts that slammed into the Sierras and British Columbia missed us. Today it's 60 degrees in Salt Lake City and it hasn't snowed in nearly two weeks. The mindset has transitioned to golf, mountain biking and rock climbing. As depressing as that is, it's also exciting that we can have multi-sport days.

There's still time for me to make those 60 days then get on the rock in American Fork Canyon. I haven't seen the wall since November even though I had vowed to keep up my climbing at Momentum Climbing Gym but all of a sudden it's five months later. Had I done as promised I would have had the complete workout but it's here now. Pushing mashed potatoes until your quads scream then reaching for holds until your lats, shoulders and forearms cry, "Uncle." You'll have just enough strength to toast the day with a margarita from the deck of your favorite watering hole. Billy Blanco's is a top choice.

A lot of people will poo poo Spring skiing, saying they hate the slush, it's too much work for three hours of skiing, the sun is too hot, a ticket is too expensive when half the mountain is closed. But, seriously, People, how can you beat a sunny day in the Wasatch? There are spring ticket deals out there if you hunt and you have three more weeks until the resorts are closed. You can also head into the backcountry (if you have the gear and know what you're doing). Spring corn is better than a Deer Valley groomer any day. Why not make the most of it?

Spring is the time to try and buy if you are in the market for new gear. In fact Alta hosts their annual free demo day today. But if you miss it, call around and find the area reps for the skis you're interested in; you might be able to talk them into meeting up with you for a few runs on next year's product.

Spring Gear
Now that I've got you convinced to wait a bit before storing your skis, here are a few items that will help make the most of the last weeks of winter:

Sunscreen-

When you hate the gooey feeling of liquid sunscreen (or when ladies don't want to mess up their makeup) there's Colorescience's Sunforgettable Mineral Sunscreen Brush in SPF 50.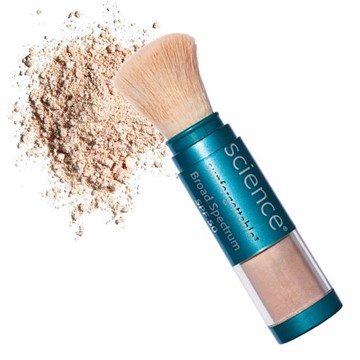 Hydration is even more vital in the springtime so carry that bladder around in the Dakine Heli Pro DLX 24L. The pack is beloved by pros for its dedicated tool pocket, front helmet loops, breathable/padded hipbelt and backpanel, and diagonal ski carry.

Underwear is everything on hot days on the hill. The Champion Freedom Seamless medium-support sports bra comes in crazy Easter egg colors and provides day-long, soft, breathable, non-chafing comfort. And for "down there," Knix Wear's FitKnix Athletic undies put the rest to shame; zero panty lines, moisture-wicking lycra and a shape that moves with you without riding up, hallelujah!

Goggles get sweaty, heavy and claustrophobic in the spring but glasses don't usually jive with helmets. That's where Aspire Eyewear comes in. The "barely there" feel of the Celebrated frames comes courtesy of a material called SDN-4 that is extremely lightweight, pliable, and durable. The arms lay thin and flat against your temples and you'll never worry about falling and crushing them whether they're on your face or in your pocket. The lenses are a premium polycarbonate UV 400.

HEADS UP ON CLOSING DATES

Alta: April 17 closure – Reopen April 22, 23, 24 with Collins, Sunnyside & Wildcat

Brighton: April 17

Brian Head: April 10

Beaver Mountain: closed

The Canyons: April 10

Deer Valley: April 10

Park City Mountain Resort: April 10

Powder Mountain: April 10

Snowbasin: April 17

Snowbird: Father's Day May 30

Solitude: April 17

Sundance: closed

Wolf Mountain: closed