Game On. Utah Readies For Ski Season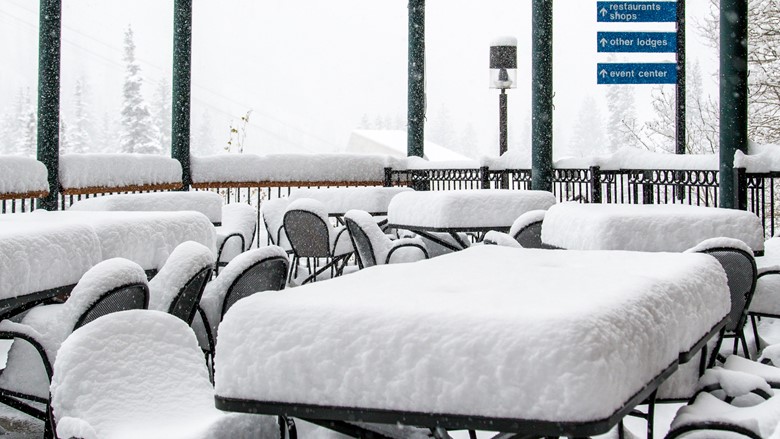 Photo courtesy Ski Utah

I woke up to new snow Tuesday. The biggest dump so far in Utah. Ski Utah called it their signature "Monster Dump" in Little Cottonwood Canyon during their annual ski press conference. The irony is that in every single past year, I was skiing instead of attending the conference. This year no one's open yet.

After last ski season's lackluster year – 41 percent of average according to Ski Utah- the resorts aren't in any hurry to open. Last season showed the second lowest snow totals in 24 years. Sigh. Poo poo global warming all you want but something's going on. There were 324 inches of snow at Alta; a far cry from the average 551 inches. That said, Alta still had the most total snowfall of any other resort in North America. Neeners! Even when it's not our best, it's better than most.

The guests kept coming too. We had nearly four million visits- only down 5 percent from the year before. Also, take a moment to appreciate that figure. That's a lot of tourism dollars showering this state. Skiing is still big business regardless of weather. Back in 1976/77, we had about the same snow totals but the skier visits were off 53 percent! You can thank snowmaking for saving the ski industry. Though bookings are seriously off at the moment, Ski Utah is remaining positive. "If you're not an optimist in the ski industry," said Ski Utah President Nathan Rafferty, "You're not going to be in the industry very long."

Most people who did come out last winter weren't turned off by 45 degree weather and blue sky. They were in the mountains on vacation. They shopped, ate, ziplined, spa'd and had fun with their families. Ever since those snowmaking The resorts have accepted that winter isn't always all about the snow. How can it be any worse? Just look at what happened in the Sierras with resorts super early or not opening at all.

The good news is that statistically speaking we are destined for a better season. Everyone's going to want to experience North America's largest ski area, right? Or pee in a luxurious bathroom on top of Hidden Peak (personally I'm hoping for a view but others might want more privacy); or ride a high-speed quad to Honeycomb Bowl at Solitude. And anyone with kids under 10 should flock to Brighton for their 80th Anniversary. They ski free this season.

The countdown to opening is on. After a clear weekend, more snow is expected in the West next Monday and Tuesday with a stronger storm on its heels by late next week.

Northern Utah and other areas to the north are still below normal so careful out there is you choose to make backcountry turns. Remember- even skiing on resort slopes right now is considered backcountry. The extremely low snowpack may be just barely covering deadly rocks; use caution. No need to rip out your hamstring on a boulder before you ever get to use your pass. Once the resorts open, stick to the groomers until we've got a decent base. Tree stumps and logs are your worst nightmare.

Here are the (dare I say "tentative"?) opening dates for Utah's 14 resorts:

Insert courtesy Ski Utah