Learn To Ski and Ride Month Gets Beginners Off The Ground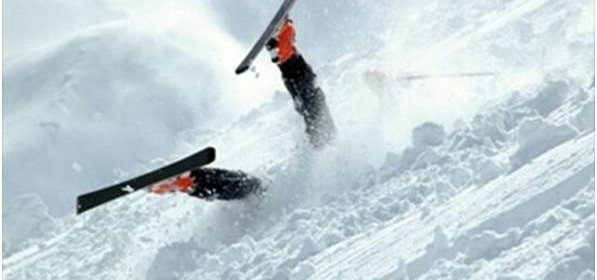 It's not official yet but the National Ski Areas Association may have a new Guinness Book of World Records record. On Friday, January 8, the entire U.S. ski industry came together to go for the "World's Largest" coordinated ski lesson as part of National Learn to Ski and Ride month. Organizers are estimating at least 6,000 lessons were taught across the country from the East coast to Alaska.
Mary Jo Tarallo, spokesperson for the National Learn to Ski and Snowboard Month said, "January is National Learn to Ski and Snowboard Month and we thought a fun event like this would serve as an ideal kick off and a way for us to get everyone talking about ways to stay active during the winter months."
Utah transplants like Nancy Lynn actually waited through the holidays to take advantage of the event and Learn to Ski Month as a whole. "Anyone who loves being outdoors needs a winter hobby but I'm intimidated by skiing. The lesson was a great introduction," she said. "I was scared in the morning getting dressed; I was lost at the resort but finally found the ski school and rentals. We had six in our group and the instructor taught us super basic stuff. It builds your confidence. Pretty soon you're going up and down, learning to walk with these things on your feet and feeling ok if you fall. By the end, I didn't want to stop or leave. The mountains are beautiful. It was worth it just to go there and be out in this beautiful scenery, doing something."
While crappy snow in the east and midwest affected lesson numbers at ski areas there, nearly 150 of the original 164 locations were able to offer lessons in their local time zones. Ski Utah, in particular, partnered with the U.S. Forest Service to bring nearly 500 school kids out for a free, first-time lesson.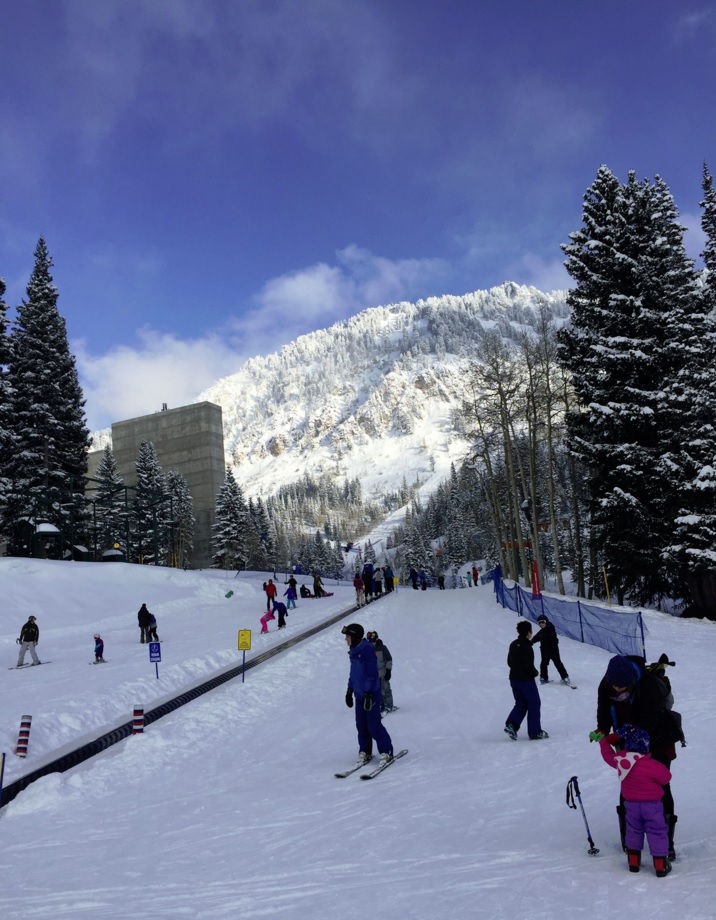 Learning to Ski at Snowbird. Photo by Nancy Lynn
"So far we've seen individual resort participation numbers ranging from just a few people to over 250 people," said Hugh Reynolds of SNOW Operating and one of the organizers of the event.  "This is the first year of the initiative, and to walk away with a new world record makes this all the more successful."
The official Guinness World Record participation numbers are expected to be announced at the National Ski Area's Association National Tradeshow and Convention taking place May 18-21 in Nashville, Tenn.
Those who missed out on Friday's event, however, can still get massive breaks on lessons through the end of the month. Just check out these deals in Utah:
THIS ONE IS GOOD ALL SEASON! Choose up to 4 days of discounted lessons and rental packages. Enrollment is limited and reservations are required.

offered on Fridays/Saturdays/Sundays
must register by Jan 31
$20 non-refundable registration fee
$45 2-hour lesson & rental
pay as you go
purchase discounted lift ticket as needed ($26 beg lift)
receive Copper Card when 4 days completed
holiday blackout dates

Dec 19 – Jan 3
Jan 15 – 17
Feb 12 – 19

reservation required – no walk-ins
Brian Head
$45 Lesson, Lift Ticket and Rental.

lift ticket
lesson
rental

Anytime Non-Holiday in the month of January, chairs 4 & 6 only. Not Valid Jan. 16-18 2016
$45 Lesson, Lift Ticket and Rental.

Packages include a 2-hour lesson, a ski or snowboard rental and a learner lift ticket. Excluding MLK Weekend Jan 16th-18th.

Print out the " LEARN TO SKI/SNOWBOARD MONTH" voucher and redeem it at any ticket window on the dates listed.

Fridays + Saturdays lessons are only offered at 1:15 PM.

Monday through Thursday, lessons are offered at 10:15 AM and 1:15 PM (excluding Jan. 18th)(Offer not valid on Sundays)
Saturday, January 30, 2016 ONLY

$45 Lesson, Lift Ticket and Rental.

First-time local skiers only. A local is defined as anyone with a current Utah driver's license. Without a Utah driver's license, a photo ID accompanied by a current Utah property tax form, Utah utility bill or Utah business paycheck stub will be accepted

Clinic Time: 9 a.m. to 12 p.m.

Cost: $45 for the package, per participant ($15 for a lift ticket, $15 for ski rental equipment and $15 for the clinic). 

Helmets are optional and available at no additional charge. Limited to the first 55 registrants, 13 years or older. Anyone under 18 years, a parent or guardian must sign a ski Rental Agreement and Acknowledgement of Risks Agreement the day of the program, prior to the start of clinic.

Reservations must be made prior to January 28, 2016, by calling Deer Valley Resort at 888-754-8477 or 435-645-6648, referring to "Ski Utah Learn to Ski Program." One lesson (clinic) per participant.

Check-in Time: 7:30 to 8:30 a.m. at Snow Park Lodge. Anyone checking in after 8:30 a.m. is not guaranteed a lesson and will not be able to receive the discounted lift ticket or ski rentals.
$45 Lesson, Lift Ticket and Rental.

Black out dates: January 16, 17, 18 of January (MLK weekend).

To reserve lesson contact the Eagle Point ski school:
435-438-3615 or e-mail: Snowsports@skieaglepoint.com.
Nordic Valley
$45 Lesson, Lift Ticket and Rental.

includes 2 hour Never Ever lesson, rental and lift ticket
Mon-Fri lessons 11 am and 1:30 pm.
Sat or Sun lessons 10 am and 1:00 pm.

Must call for reservation, Limited availability. 801-745-3511 ext.1
Sorry. Newbies. You had only one chance at a deal. If you missed the big January 8 group record day but still want to ski PC there's a Full Day Never Ever lesson starting at $225 inc rentals and ticket.
$45 Lesson, Lift Ticket and Rental. 

 

Ages 13 and up. 

Reservations are required. 801-745-3772 ext.127 or 128. The good news is that Powder offers a full day lift ticket so you can stick around and practice after your lesson is over. You must mention Learn to Ski Month promo at time of reservation to receive $45 price.
One Day Only: Jan 23rd 2016.

$45 for a Lesson, Lift Ticket and Rental.

Ages 13+
Register at least 7 days in advance at 801-620-1015
Must mention Ski Utah Learn to Ski/Ride Program to qualify for the discount
First time skiers and riders only
Check in at the Learning Center at least 45 minutes before your lesson start time.
$45 Lesson, Lift Ticket and Rental. Ages: 16 & Older

First-Time Skiers / Snowboarders
Thru Jan. 31, 2016 (Excluding : Jan. 15-18) / Afternoons Only (1:30 pm – 4:00 pm)
Price: $45 (Regularly Priced: $110)
Meeting Location: Chickadee Bowl
Includes: 2.5 hr. Afternoon Lesson / Chickadee Lift Ticket / Rentals

Must pre-register a minimum of 24 hours in advance. Offer is subject to availability. Must request this program when registering. Learner will receive a Learner's Permit Pass" entitling the learner to five additional discounted adult group lessons ($75 instead of $110) subject to availability AND five additional days of skiing for half price! The Learner Permit is good for the rest of the current season only and is not transferrable. One per guest.

 Ages 7-15 will get a $25 discount on follow-up Mountain Adventure lessons at the regular rate of $168.
Reservations Required: (801) 947-8222 or mountainschool@snowbird.com
Learn to Ski or Snowboard for $45

Offer valid for Utah residents.
Beginners only, one time use.
For skiers ages 6 and up and snowboarders age 8 and up.
Valid January 5-31, 2016 excluding 1/16-19, 1/23 and 1/30.
Afternoon group sessions only, 1:00pm-3:30pm.
Rentals are available after 12:15pm.

Reservations can be made by calling 801-536-5730. Reservations must be made at least one week in advance.
Learn to Ski or Snowboard for $60 

Full day lift ticket
Full day rental (basic rental package)
2 1/2 hour morning lesson (lesson time will be from 10 am – 12:30 pm
Offer will be valid on Tuesday and Wednesday mornings. January 19, 20, 26, 27

Must be purchased in the Ski and snowboard school office.
Guest will be asked to provide valid Utah Identification.
Guest will be placed in a 1st time (beginner) lesson.