Legendary Ski Pioneer Dick Bass Dies at 85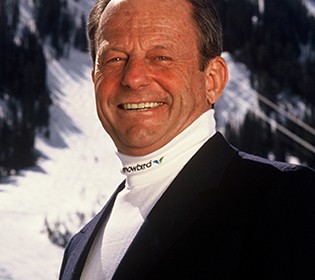 Photo courtesy Snowbird Resort
Richard Daniel "Dick" Bass, Everest mountaineer and Snowbird Resort co-founder has reached the "eighth summit." The Oklahoma native passed away in his Dallas, Texas, home Sunday, July 26, 2015, at 85, and the sentiments and Facebook comments continue to pour in.
"I remember Mr. Bass standing in the lift line on Peruvian just a few years ago, greeting all of his guests. What an honor to have known Snowbird in the Dick Bass era – may it continue in his spirit," commented Andrea Korval.
"RIP To the legendary Dick Bass. He changed the sport of skiing forever for the better. His death is a great loss to so many who have had their lives changed by one great man. I am thankful for having met him several times and for him having given me "lifetime piano privileges" in the resort. I was lucky to know ragtime music, one of his favorites. He inspired me to ski, to play music, and to appreciate a beautiful canyon. Thanks Dick!" posted Ron Rubin.
And Roger Thomas lovingly wrote: "Dick, the world will never see another soul like you. Thanks for all the adventures of yours that you always shared with us, and thanks even more for creating SnowBird, the place that we've all had so many of our own adventures at! I hope the powder is always deep and fluffy for you in your adventures in the next realm!"
Bass made history when he tackled the highest points on each of the seven continents, finishing his journey of the "seven summits" by conquering Mount Everest at the age of 55. He had partnered with Ted Johnson in 1971 to develop Snowbird Resort and was the sole owner until he sold a majority interest to Ian Cumming last May. Bass had been suffering from pulmonary fibrosis but lived a long rich life surrounded by loving fans and family.
"The Snowbird family is mourning the loss of a great man who changed so many of our lives for the better," said Snowbird President Bob Bonar, who worked for Bass since before the resort opened.
Snowbird is set to premiere their new Hidden Peak Lodge this season; something Bass championed for nearly two decades. It's sad that he wasn't able to live to see this stunning addition to the world-famous ski area. It will be no surprise if they dedicate the building to him.
Bass is survived by wife Alice, four children and 13 grandchildren, as well as five step-children and 11 step-grandchildren.
Funeral services will be Friday, July 31, 4 p.m., at St. Michael and All Angels Episcopal Church in Dallas, Texas.