Park City Closes Despite Great Snow

I'm almost done. My last day teaching for Canyons Resort is next week and then Park City closes for skiing April 7. The 2019/20 is drawing to a close for our Park City resorts but it's way too soon. Locals are angry and asking, "Why?" After all, Colorado ski areas have been announcing extended closing dates right and left. (Of course, they are still closing in April and Utah has a lot more snow.)
This is the first ski season in five that's still delivering the goods on top of a solid base, yet Deer Valley and Park City won't budge. Hotel bookings, retail and restaurant sales will plummet. Sure, come to Park City in April. You won't be able to ski but oh well. To hell with the late spring breakers, Easter guests and season pass holders.
"Vail needs to listen to the locals of Park City. It should be reveling in the fact that there is plenty of skiing left," says local Jim Snyder. "Aspen and Snowmass are open until April 21st. So the choice is stay open, enjoy 2 additional weekends of great fun, lots of great food and drink, music and so on. Or close down and never get back the business that will be lost, forever."
Deer Valley Doesn't See Benefits
Deer Valley's Emily Summers said history dictates the close. "We have not had success in staying open longer in April when Easter is late like it is this year," Summers said. "In past seasons where the calendar was similar, we didn't see the skiers to warrant staying open later, and extending a season doesn't give people the time to plan ahead and make a last-minute ski trip."
To date, Deer Valley has a base of 113 inches, with a total snowfall of 324 inches while PCMR was reporting a 113 inches, and nearly 340 inches for the year. There is a cold storm on the way to Utah this Wednesday night and a wet April in the forecast.
"Pretty sad that PCMR won't stay open," said Jennilee Post on the ParkRecord.com site. "DV has always closed early so that is actually normal. Since Vail took over it's been a total crap show. No night skiing for all the kids, no parking. A real ski town has night skiing and stays open when there is finally snow. Sad times for P. City." Snowbasin and Solitude, owned by DV's Alterra Mountain Co., will close April 14, followed by Brighton, Alta and Snowbird.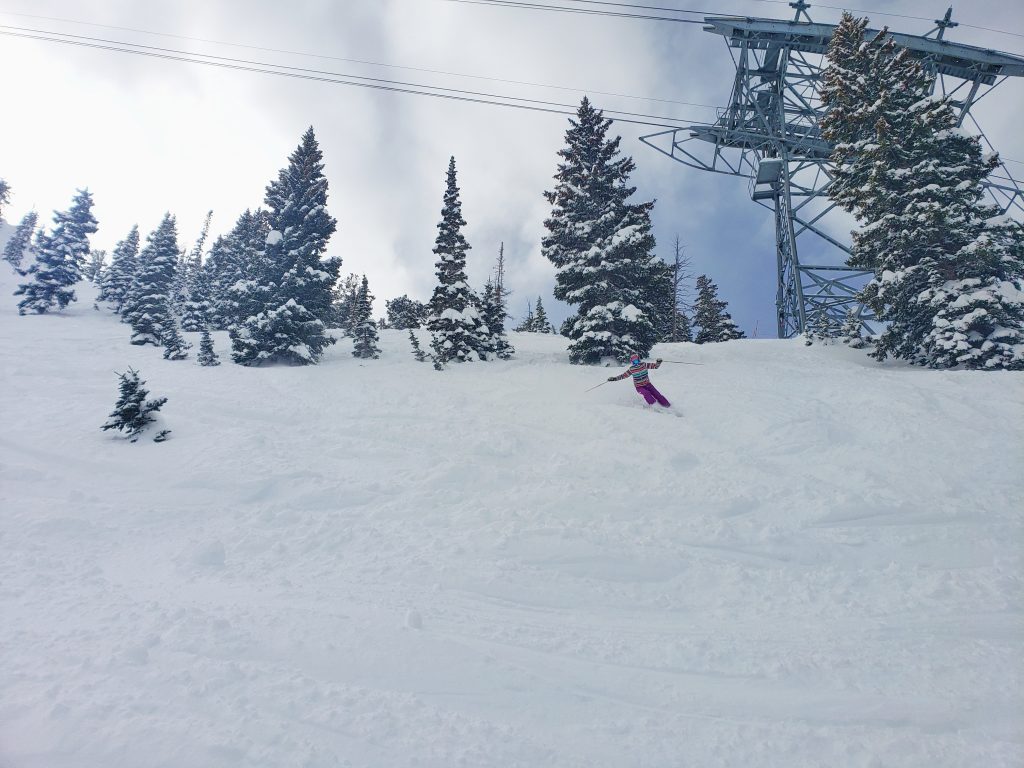 Fortunately, our two "indie" resorts, Snowbird and Alta, offer skiing through April. Snowbird might possibly stretch its season through June with all the snow they've seen this season (546 inches so far!) so if you're thinking of learning to ski or snowboard, or you're not ready to call it quits, you have options. The ski schools are still running as well so find a pro to help you master your spring turns.
Get Better After Park City Closes
In case you need a reason to take a lesson when Park City closes in two weeks, PSIA- the Professional Ski Instructors of America have put out this list. No matter what someone's level of experience, from never-ever skiers to a slayer of bumps, taking a ski or snowboard lesson in the spring will up your game.
It's easier and faster to learn from an instructor. Instructors are professionals trained to teach people how to ski and snowboard. "We know how to break down the movements and provide helpful feedback," said PSIA Alpine Team Member Eric Lipton. "You'll be a more effective skier or rider if you learn the right way."
You WILL improve. "No matter your ability level, you can always use a coach – there is always something you can improve on," said PSIA Alpine Team Member Jennifer Simpson Weier. "The more things that you learn to do on your skis, the more the mountain opens up to you and the more fun you'll have."
You can stay pleasantly warm while you stand for tips and answers. You certainly won't be complaining about cold toes and fingers while your instructor explains how to turn in slush. "Whether you're a beginner trying to get your helmet adjusted, or an advanced snowboarder working on your tricks, professional instructors are just that, pros. We can show you how to learn a sport using simple steps," said AASI Snowboard Team member Tony Macri.
Instructors show students new terrain and help them explore the mountain. Looking for a mellow groomer? Or seeking out a hidden powder stash in May? "Our job is part instructor and part mountain guide. We'll show you the terrain that is going to help you have the most fun," said PSIA Telemark Team Member Gregory Dixon. "We also know where to find the best snow – so take a lesson and we'll explore the best places to ski or ride."
Get welcomed into the mountain culture. "It's more than just a lesson," said Dixon. "Many do this job because they enjoy sharing their knowledge and making connections with people, and they want others to love the sport as much as they do." And after your lesson, there's apres tailgating!
If you're new to the sport, check out these PSIA-AASI's Beginner's Guides:
thesnowpros.org/take-a-lesson/beginners-guide-to-skiing
thesnowpros.org/take-a-lesson/beginners-guide-to-snowboarding
Or my own tutorials on skiing spring conditions: