There's Snow At Snowbird! It Ain't Over Yet

The skiing at Snowbird has been unreal. Yes, skiing. While the rest of the Wasatch is hunkered down, sitting out the back-to-back storm cycles because closing days have come and gone, diehard locals are rejoicing. Nineteen inches in the last 48 hours and more on the way.

Rain pummeled the base parking lots two days ago, bringing some high density snow to the upper elevations; it also brought about numerous slides. The unstable pack caused hyper safety diligence and the crowd stewed at Gad 2 base for nearly two hours Wednesday morning while patrol controlled. Finally, things opened (although the Tram is closed now for maintenance).

The resort is replacing the Tram cables so the whole Peruvian side is closed but you can still get the goods off Gadzoom, Little Cloud and Mineral Basin chairs.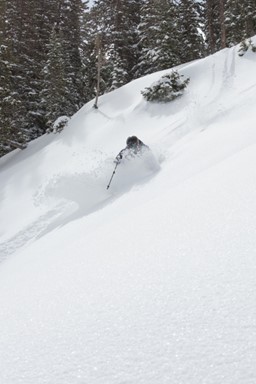 The 16 inches of new overnight brought joy and hoots; along with Facebook posts about the "epic" conditions. The emerging sun did make things thick but if you knew where to turn, you weren't disappointed. Dare I say there were face shots to be had? Unfortunately the Road to Provo lineup was too intense. It eventually opened but not before irking an anxious crowd.

Snow fell on Wednesday evening with two more systems forecasted for the weekend. Next week it will probably turn to spring slush as temperatures are supposed to climb back up into the 50s.
Currently, the conditions are still unstable especially on the closed Peruvian side of the hill so use patience and caution skiing this week. Let the patrol do their incredible job so you can safely rock the spring skiing this month.

Mountain Detes
The Bird is open daily through May 8 and weekends after that, closing on Memorial Day, May 30. 2016. There's live music at Mid-Gad, Friday-Sunday, 1-4 p.m. Lift tickets are $50 for season passholders from any other ski area. Present pass at the ticket window.