Vail Makes Epic Move; Buys Whistler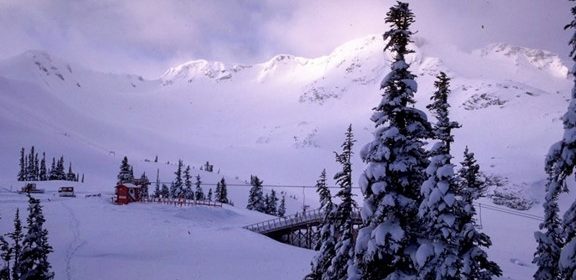 photo courtesy Whistler Blackcomb Resort
Vail Resorts just got more "epic". In its march for (ski) world domination, the ski industry giant today announced they are buying Whistler Blackcomb in British Columbia. They will pay $513 million cash and $543 million in stock when the deal closes this fall. When it's all said and done this will be one of the most expensive resort purchases of all time.
"Combining Whistler Blackcomb with Vail Resorts' portfolio of outstanding resorts provides Whistler Blackcomb with increased financial strength, marketing exposure, guest relationships. It broadens the geographic diversity of our company with resorts across the United States, as well as in Australia and Canada," said Dave Brownlie, Whistler Blackcomb's chief executive officer.
The VR Portfolio
VR's mountain collection is now up to 13- Colorado's Vail and Beaver Creek, Breckenridge (second in skier visits to Vail), Keystone; California's Heavenly, Northstar and Kirkwood, and Utah's Park City/Canyons, the nation's largest ski resort. VR also owns Perisher ski resort in Australia, Wilmot Mountain in Wisconsin, Afton Alps in Minnesota and Mt. Brighton in Michigan, operates the RockResorts hotel brand, and a number of golf icourses in the U.S. and Caribbean.
With this latest acquisition, VR is the largest ski resort operator in the world. The move could put a chink in the armor that is Liftopia's popular Mountain Collective. The MC sprouted as an alternative to the astronomically rising costs of both lift tickets and season passes. It became a direct competitor of VR's Epic Pass; offering skiers and boarders an affordable way to ski several resorts in a season. Whistler/Blackcomb was part of the MC roster. "We just learned about the sale an hour ago so we are waiting for communication as to what this means for our customers," said an MC rep. It's doubtful that Whistler will straddle both pass offerings.
Vail Is Psyched
"Whistler Blackcomb is one of the most iconic mountain resorts in the world with an incredible history, passionate employees and a strong community. With our combined experience and expertise, together we will build upon the guest experience at Whistler Blackcomb. We will preserve the unique brand and character of the resort as an iconic Canadian destination for guests around the world. We are delighted to add such a renowned resort to Vail Resorts and look forward to expanding our relationships in the Sea-to-Sky community, British Columbia and Canada," said Rob Katz, chairman and chief executive officer of Vail Resorts.
Mr. Brownlie added, "We will also continue our discussions with the Squamish and Lil'wat First Nations, on whose traditional lands we operate. The business partnership will benefit our communities, our province and our company for decades to come. Our board of directors has also been monitoring the unique challenges facing the broader ski industry due to the unpredictability of year-to-year regional weather patterns. Whistler Blackcomb, with its unprecedented acreage of high alpine terrain and Glacier bowls, is well positioned, but by no means immune to these challenges."
Whistler, by joining VR and its geographically diverse group of ski areas, should be insulated from the "red". If one area suffers from a bad snow year, the others will pick up the slack; an attractive proposition for stock holders and Epic Pass holders.
VR says they intend to maintain the majority of Whistler Blackcomb employees. They say this transaction won't affect the day-to-day operations at the resort, however, that wasn't the case with Park City and Canyons. VR called nearly all of the upper level management into one room and summarily dismissed them.
Whistler Season Passes
The 2016/17 season pass options remain unaffected by the news but look for big changes for next season. Whistler Blackcomb will become part of the Epic Season Pass and other season pass products for 2017-18.