Wanna Own A Ski Resort?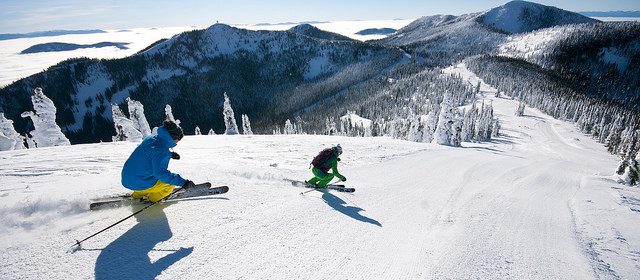 Photos courtesy @marseille
In an age where everything feels crowdfunded- from frat parties to feature films- it was only a matter of time before the ski biz opened the wagon gate and asked us to climb aboard. RED Mountain, the oldest ski resort in Western Canada, and the first stop on B.C.'s famous Powder Highway is using the StartEngine funding website to seek an injection for their next capital investment. The goal is set at $10 million with a minimum buy-in of $1000.
You Don't Have To Pay To Play Just Yet
Red Mountain's platform is simple- help keep us from being swallowed by Evil Corp. According to the Canadian resort's website close to 40 ski resorts are owned by just three corporations and nearly 75 percent of those acquisitions happened in the last 14 years. Red is using Vail Resort's latest engulfment of Whistler/Blackcomb to highlight the eclipsing need to keep local hills out of the hands of "The Man." But because this is a first of its kind, RED wants to gauge the public's interest. All you have to do is log on and imply that you might want to invest. There's no legal commitment whatsoever. After 90 days, if it looks like enough people could fund the campaign, then it goes live and you can chip in or not.
Selling Points Of A Ski Resort
With the advent of new crowdfunding rules that now allow for equity in exchange for 'donations,' an entity like a ski area can offer perks beyond a lift ticket or T-shirt. Those who help to raise the $10 million goal will have an equity stake/shares in the company.
Last year was the best financial year in RED's history and they want to keep the momentum going in "a way that supports our beliefs of community and sustainability for a place that we believe is special within the ski resort world. We are doing this by bringing forward an extremely unique opportunity to like-minded individuals and adventurists that believe places like RED are important to keep around," states the resort on their website.
"We have the snowfall, vertical drop, world-class terrain and 4-season fun to go boot-to-boot with the BigGuys, but have consciously maintained our mom 'n'pop/weird uncle feel for over 100 years. We're tired of seeing families priced out of a premier ski vacation by Mega Resorts. It's time for a change."
If you do want to buy the bridge, er resort, you'll have a chance at a piece of one of the largest ski areas in North America- ahead of Jackson Hole; ahead of Snowbird and Copper.
You Want In
The "Test The Waters Phase" involves six investment tiers. Amounts range from $1000 to $25,000 with potential investors not only getting equity shares but "perks" like season passes, custom-designed skis and buddy lift tickets. It's an interesting idea that might just work or perhaps Red gets the money they need, makes a few improvements then flips and sells to VR and all of the equity partners make out like bandits.
In a landscape where local independent areas are getting Pac-manned by giants that would rather stick a Starbucks at every base than let the local roasters woo guests, and who see no issue with $150 lift tickets and $1000 ski lessons, core skiers might want to ask themselves, "Why not try to invest your ski dollars rather than spike it across the bottomline of some corporate entity? What's to lose?"