Whistler Resort Bans Smoking

I can't believe that no one in Europe got the memo. Not only is smoking a disgusting habit but it can kill you. As I walked the streets of Paris, tooled around the tubes of London and rode the rides of Disneyland Park and Hollywood Studios, they were everywhere-nasty smokers and nasty cigarette butts; chainsmoking locals of all age without a single care about the pollution, the negative influences on nearby children, and the lungs they will tar. Not to mention the crushing blow to that breath of fresh air we all hope for.
Whistler knows.

May 31 is World No Tobacco Day. It's also the day Whistler/Blackcomb Resort officially becomes smoke free. That's a bold move for Canada and an even bolder move for a ski area. Heavenly, Kirkwood and Northstar did it back in 2012 to help prevent summer forest fires and no one should steal their bragging rights but California in general has super strict anti-smoking laws.

I've been championing for a ban here in Utah but the plea falls on deaf ears. Why? No idea. Deer Valley says they will pass my comments up the executive chain. Snowbird says they'll do some research and get back to me. Vail Resorts, instead of answering a simple question about whether they would follow Whistler's lead, wanted to know who I was writing for.  Maybe they're afraid of losing advertising dollars from orgs that might possibly sponsor skiing events or of losing employees who would rather not work at all than give up a smoke break. Cowards the lot of them. J

The new Whistler policy bans smoking anywhere on Whistler Blackcomb property, including lift lines, chairlifts, gondolas, ski runs, hiking trails, valley base areas, parking lots, Whistler Mountain Bike Park trails and all Whistler Blackcomb bar and restaurant locations, including patios.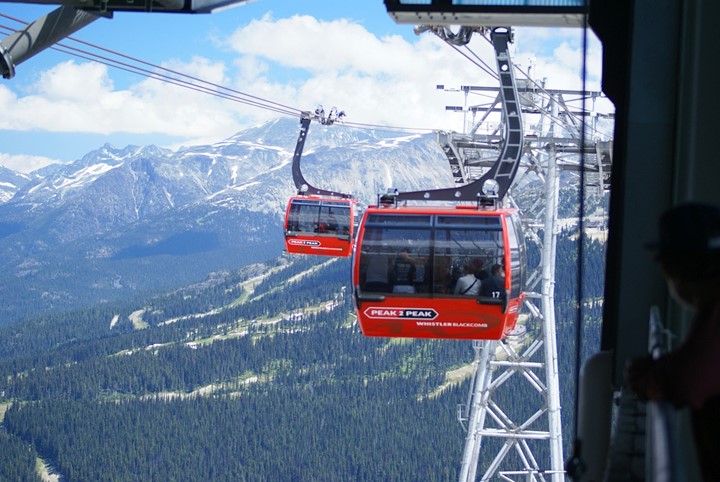 No more ganjola at Whistler

"We have made the decision to introduce a smoke-free policy at Whistler Blackcomb to preserve the pristine alpine environment our guests come here for," says Dave Brownlie, President and CEO at Whistler Blackcomb. "We also recognize as a leader in the outdoor adventure and wellness industry and as the largest employer in the Whistler community, we have a responsibility to our guests and staff to provide a safe and healthy environment for work and play. We believe implementing this new policy aligns with this goal." Not to mention the assist that gives to firecrews who might otherwise be summoned to action if some butthead tosses a butt on dry slopes this summer.

Whistler Blackcomb's new smoke-free policy will apply to both guests and staff. While the policy will prohibit guests from smoking on Whistler Blackcomb property effective immediately on May 31, 2015, Whistler Blackcomb staff can still smoke in designated areas for one more year as they adjust to the company's new policy. During that fade-out phase, Whistler Blackcomb will provide tools and resources to help their staff quit smoking. As of May 31, 2016, Whistler Blackcomb's smoke-free policy will apply to everyone.

The resort has set up an information booth in Skier's Plaza for the Sunday, May 31, launch. Whistler Blackcomb leaders will be on-site to answer any questions as well as representatives from Vancouver Coastal Health, who will have cessation resources and information about the health benefits of quitting smoking on-hand.

"By taking this important step, Whistler Blackcomb is demonstrating it is a strong ambassador for health. We know many young people ski and snowboard, and youth who haven't started using tobacco by the time they are 26 years old will most likely never start," says Vancouver Coastal Health Medical Health Officer, Dr. Paul Martiquet. "Eliminating smoking in public places, such as on our mountains, creates healthy role modeling so youth, and others, are less likely to even consider using tobacco."
The decision to become a smoke-free recreation area and employer aligns with Whistler Blackcomb's core values of Safety First and We Care, as well as the company's goal to be health-oriented and family friendly.