Whistler Announces $8 Million in Improvements For 2017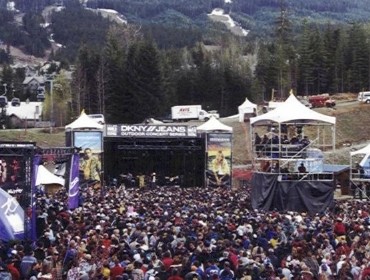 I gotta get up to Whistler. Winter, spring, summer. The behemoth resort just doesn't quit impressing folks with their sense of progress, growth and out-the-charts party scene. In the spirit of everreaching resort endowments, Whistler Blackcomb will drop a cool $8 mill on winter and summer projects around the mountains.

"These projects demonstrate our commitment to ensuring our guests have the best possible experiences when they come to our mountains," says Dave Brownlie, President and CEO of Whistler Blackcomb. "Reinvesting in our operations and continuing to provide new offerings to guests year after year is something we are very proud of."

This year's mess of projects are aimed directly at newcomers to the British Columbia area. Summertime guests should be on the lookout for work on the Harmony Lake, Peak Express Traverse, and Whistler Summit Interpretive Walk hiking trails on Whistler Mountain, and the Alpine Walk hiking trail on Blackcomb Mountain. Operators will resurface and widen each of the trails to improve their usability and access. The Samsung Alpine Theatre in the Roundhouse Lodge which shows historical films about Whistler's past gets moved to the lower level of the Rendezvous Lodge on Blackcomb and will expand.

For next winter, the ski and snowboard learning terrain in the Olympic Station area on Whistler Mountain will get even more beginner-friendly terrain, and the Olympic and Fantastic runs will be regraded to make them more accessible to novice skiers and riders. Whistler Blackcomb will be installing two new, covered, magic carpet lifts at Olympic Station and 25 new, energy efficient snow guns. Plans also include re-grading the Upper Whiskey Jack run above the Chic Pea Hut to make it less steep; something beginners should be psyched about.

The Roundhouse Lodge gets an added 6,000 square feet in the form of a new upper and lower deck and a new "umbrella bar" with a collapsible roof that can open and close like an umbrella depending on the weather. These upgrades give guests an extra 160 new outdoor seats. Oh, and the umbrella bar is heated so it can be open year round.

The GLC (Garibaldi Lift Company) will renovate the section of the patio overlooking Skier's Plaza- a new roof, heaters and fire pits, 90 outdoor covered seats- making Whistler's signature slope-side après spot even more hopping.

What can I say? Whistler is just one of those places that keeps upping their game. You have to put it on your travel bucket list whether you relish a summer mountain visit or crushing it on winter slopes.