Keep the Windows Up and The Doggy Down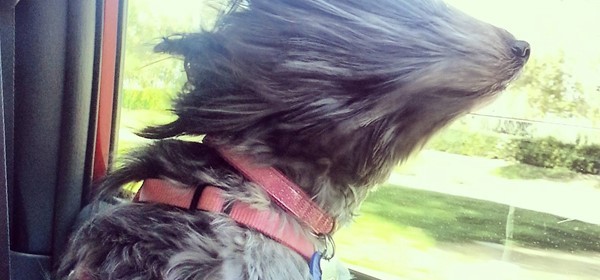 "That's so cute," Sage laughed as we headed south on 700 East. "That dog looks like a sheep!" She was referring to the large fluffy head of a poodle mix that was straining its head out the back window and staring back at us. We laughed together yet what I thought about were all the warnings I've heard about letting dogs drool in the breeze.

I get it. I usually take my guy everywhere with me. But my AC works and he stays home if it looks like he'd have to stay in a parked car in the summer. But what if your AC is broke? What's a good mom to do when Fido's nose presses against the window? What you don't do- according to several authorities- is roll it down. The law is unclear in Utah. Most people seem to think you can get a ticket for an unrestrained pet but I've scoured the web and can't find a single Utah law to back that up.

Only a handful of states make it illegal to let dogs roam freely in moving vehicles and usually those laws actually apply to dogs in the back of pickups. New Jersey cops can pull you over and slap a $250-1000 ticket on you for disorderly conduct under animal-cruelty laws. Maine, Arizona, and Connecticut use distracted-driving laws to get you.

State Farm Insurance is using "The Pet Lifestyle Coach" Megan Blake to remind you that in the summer your pets are your kids. "Dogs, like children, should never be allowed to ride with their heads out the windows," says Megan. "Flying debris, including bugs, could harm them, and their lungs or ears could be injured from high-speed wind. Unrestrained pets in cars pose serious potential risks, including becoming a major distraction to drivers; and unrestrained pets can easily be seriously injured, killed or even lost after being thrown from a car.

Good advice to keep the windows up as we head down the road or meet at the trail head. Here are a few top items for keeping your four-footed kids safe en route:

Ruffwear LoadUp Harness– Leash her down and feel confident she'll stay put even in a crash. The harness attaches to existing seatbelts for a universal fit. Can also be used for short walks. $80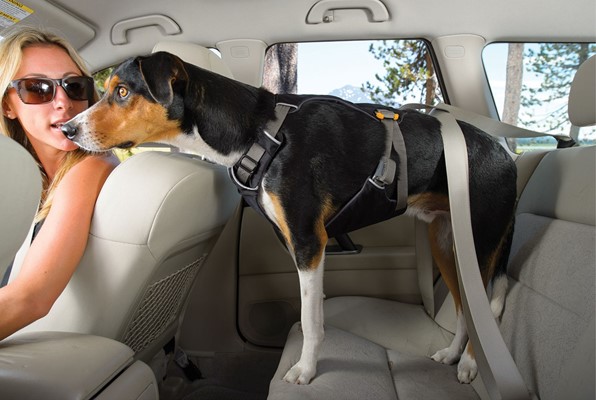 Kurgo Tru-Fit Enhanced Strength Harness– With five adjustments points, it's easy to get a near custom fit for any dog. It can also be used as a no-pull walking harness. $36