Bandits Branches Out To The Cottonwoods
Whether you're a 'ribman' or just into large heaping plates of smoked meats, Bandits on Park City's Main Street will satisfy any hearty appetite. And now there are two!
Debuting this winter was Bandits American Grill in Cottonwood Heights at 3176 East 6200 South. But let's call the Bandits near Big Cottonwood Canyon Park City's more sophisticated sister. Instead of crammed into an historic building, this Bandits has plenty of elbow room; enough for a separate bar area divided by a double-sided fireplace. The restaurant is still family friendly with heaping plates of pork baby backs, wood-fired tri-tip sirloin, and spicy jerk chicken breasts.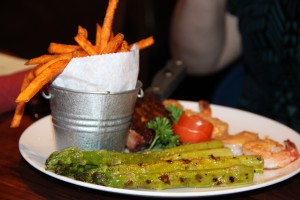 They all come double sized with your choice of two sides- like the hulking baked potato, coleslaw or corn on the cob. You'll be entering a hungry-man's hall of fame if you can finish what's on your plate.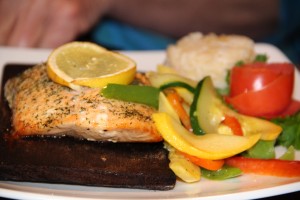 If you're not much of a barbecue eater there are tasty salads like the quinoa harvest with kale, pecans, apples, cranberries, goat cheese, citrus vinaigrette or the tri-tip steak salad. They also have burgers, veggie sandwiches and seafood.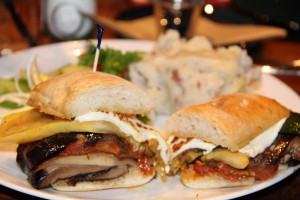 Bandits American Grill is also a stellar spot for drinks and dessert like cheesecake and mud pie. But just so you know, if you're dropping in for hot apps only, you might be sad over the selections and portion sizes.
The menu is a bit pricey for barbecue so just think of it as a restaurant from Park City and you'll begin to see value. If you do want less expensive, traditional pub food, there's always my favorite post-climbing/skiing spot- The Porcupine Pub – but it's nice to see there are other options in the neighborhood.