DEER VALLEY RESORT EARNS BRAGGING RIGHTS AGAIN WITH TOP COCKTAIL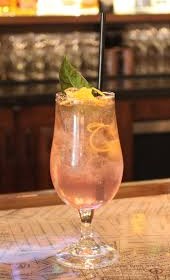 Deer Valley Resort's The Brass Tag restaurant has carried away top honors in this summer's Park City Area Restaurant Association's Cocktail Contest. The online contest took place during the month of July 2015 and involved bars and restaurants. Ballots were cast online by visiting the PCARA website. Voters rated each drink on a 1-to-10 scale judging both flavor and presentation. The Brass Tag's lemonade cocktail, the Evangeline, earned an average 10 out of 10 rating. This winning cocktail earned 3,287 votes out of 10,526 total votes taking first place.
The Brass Tag's bartender Josh Hockman gets a $200 cash prize and a featured spot in a marketing campaign leading up to the PCARA's popular fall "Dine About" event. "This contest was a blast, and we're honored that voters loved Josh's creation," Deer Valley Director of Food & Beverage Jodie Rogers said. "It was a close competition with a lot of great cocktails. We are thrilled for Josh and his talent for mixology and glad he's part of the Deer Valley
family."
"This was one delicious and really refreshing summer cocktail," PCARA executive director Ginger Ries. "Thanks again to all the restaurants who competed and all the fans who voted online and made this such a big success."
More than 16 bars took part, entering cocktails and also donating a $50 gift certificate to the PCARA to be used as giveaways on the group's Facebook page.
"Online voting gave all PCARA members a chance to participate, driving business to each establishment and giving guests the opportunity to cast a vote," Ries said. "It was really a town-wide contest."
So what's in this winning beverage:
Evangeline

1 Bar Spoon Cassis Vinegar
.5 oz Basil Infused Utah Honey
3 oz Rose Lemonade
Combine all ingredients, except the rose lemonade into a shaker, fill with ice. Stir for 10 seconds and strain into a stemmed beer glass filled with ice. Top with rose lemonade. Garnish with lemon strings and basil leaf.
All entries and recipes can be found at www.parkcityrestaurants.com