Savor the Summit Serves Up Main
There was a ginormous dinner party last Saturday in Park City, Utah, and I had a seat at the table for the first time ever. I can't believe that the Savor the Summit has been going on annually for eight years and I'm just now joining the party. But like any good guest can attest, better late than never.

Local Park City restaurants host some 2500 guests and until you sit at that mile-long Grande Table it's hard to imagine how something like this can operate. For one thing, Main Street is steep. It's the spot for the annual Running of the Balls. My lipstick took a trip two tables down the minute I laid it on its side. For another, it's not cheap. At an average $200 per head (including wine and gratuity) Savor the Summit is not an event for working-class locals. And yet it regularly sells out.

Some 24 Main Street restaurants join together to create linking sections from the top of Main's asphalt spine to the movable "spirit" garden and large concert stage (open to the public) near the Kimball Art Center at the bottom of the street. You don't buy a ticket. The hubbub on Main is free. But you do need reservations to dine front and center.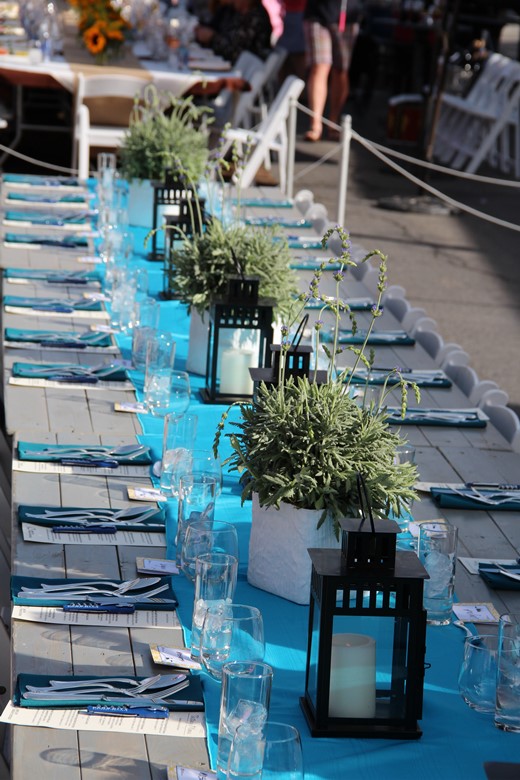 Each restaurant creates their own unique menu so by knowing the type of food you like you can choose which restaurant to book with. Each section then winds up with its own personality. Shabu's section seemed more like a neighborhood party than an elegant dinner while the rich savory smells of High West Distillery made it all the way up to where we sat mid-station by the Post Office.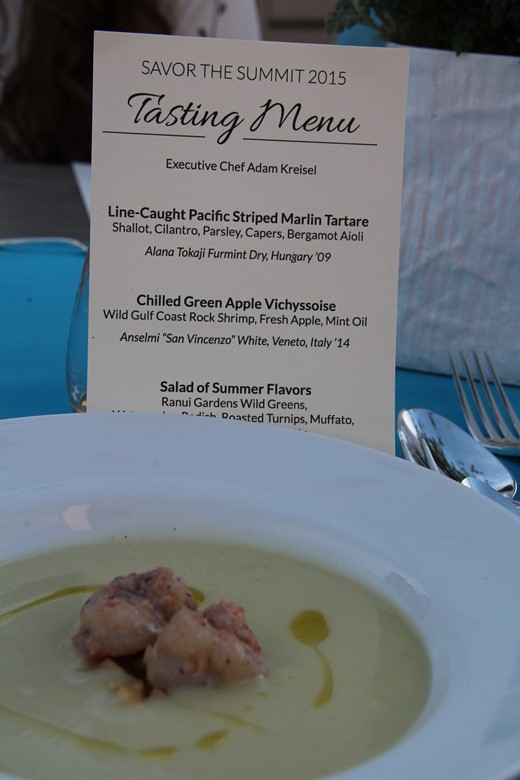 I was part of the Park City Culinary Institute's table. While it's an actual culinary school with classes at the Deer Valley Club, the food was all Chef Adam Kreisel (former executive chef of Sundance Resort).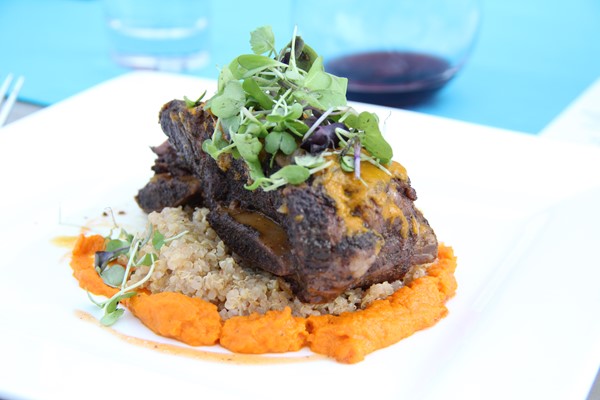 We had retirees from Florida to our right and commuters from Bountiful across from us. Both couples had sat at other restaurants' tables in the past. We compared thoughts on the carefully prepared dishes- like the delicate Pacific marlin tartare and the braised Angus short rib over quinoa – and savored every delicious bite. It was hard, however, not to wonder what was being served at the other tables. Everywhere you looked- up and down- the crowd was in pure celebratory mode.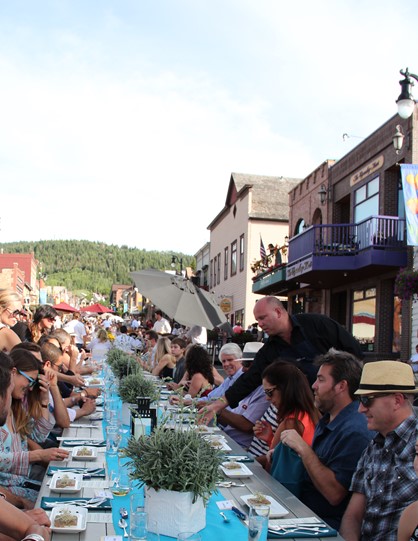 By the third glass of wine we too were all old friends. The Savor the Summit began with just six restaurants the first year and now it's a true collaborative effort. There are a few restaurants that opt out but there are plenty of others to step in and fill any gaps.

If communal dining isn't your thing you can always opt for a table on the decks of nearby restaurants next year and get a contact high from the sidelines. You'll have a regular menu instead of a once-in-forever creation but you'll still have a blast.