Take The Park City Food and Wine Classic Stroll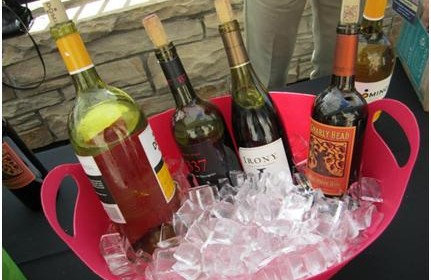 I'm not built for 300 bottles of wine. But if I must make an effort, so be it. It's been 11 whole years since the first Park City Food and Wine Classic Stroll debuted on Main Street and the support its gotten is impressive. It started as a down-home, locally organized shindig to drum up some numbers for Park City pre-August but the event has actually earned the respect of more established wine events.
Filled with an unusual collection of seminars and tastings like the SUP and Suds (standup paddleboarding and drinking), Hike and Hops, Phat Tires and Phat Wines, and Veuve and Vinyasa, the Classic does an effective job of melding what Park City's known for (outdoor adventure) with what most people don't expect (drinking alcohol).

I barely scratched the surface of the vineyards decorating Main Street for the Stroll of Park City last year. I was the rare bird, bee-lining for the food before the wine. I'm a total lightweight. After just my first three mini glasses things were starting to taste alike. It would be more of a wobble than a stroll without food in my system.

The ticket prices for the Park City Food and Wine Classic Stroll are hefty ($95) and there's a time limit (3 – 7 p.m.). I had to move quickly. I picked up my pass at the Kimball Art Center, busted over to Zoom, where I enjoyed the Irony red and the mushroom puffs, then decked the deck at Butchers Chophouse sipping a fruity Bacardi mixture along with my wine tastings. At High West distillery, I popped a fried popper and dragged on a whiskey lemonade and Pinot Noir, etc. The "epicurean extravaganza" was definitely more of an oenophile extravaganza with at least three wine stations at each of the nine restaurant stops. By the time I made it to upper Main Street, 350 Main and Gallery MAR had run out of food and more than a few guests were complaining. Personally, I had filled up on bacon-wrapped steak at Butcher's Chophouse, chips at The Mustang, melon gazpacho at Riverhorse and – my favorite – beef panang curry from Bangkok Thai.
Chicken skewers at Zoom.

The three-day Classic brings in master winemakers, culinary greats and distinguished guests from Baltimore to San Diego; giving them an excuse to vacation in Park City in July. It culminates with a Grand Tasting event but if you ask me the Stroll is way more fun!

The "spittoon"