The Easter Bunny's Coming To The Mountains. Eat The Ears First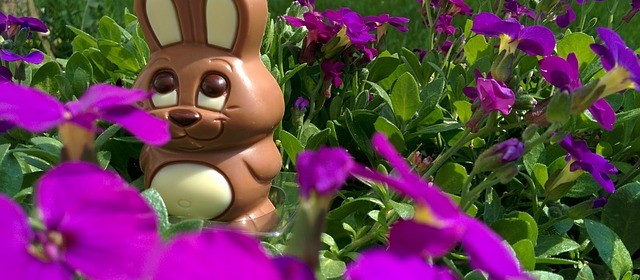 It's a no brainer. Someone hands you a cute chocolate bunny and the first thing you munch down on? The ears. According to a survey conducted just in time for Easter by the Chocolate Manufacturers Association (CMA) and National Confectioners Association (NCA), not only are chocolate bunnies the number one "must have" item in an Easter basket but they are to be consumed ears first.
"Apparently, this is the most appropriate way to enjoy a chocolate bunny," said Larry Graham, president of CMA and NCA. Graham admits he's no different. One thousand adults were surveyed and 76 percent said they start with the ears while only five percent head for the feet. I usually bite the butt but I'm in the minority (four percent).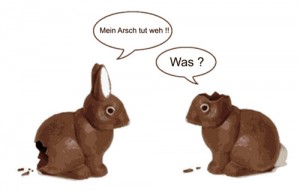 When you're done with the bunny you will most likely have a handful of jelly beans to contend with. More than 90 million chocolate bunnies and 16 billion jelly beans find their ways into our bellies.  But skiers, on the other hand are destined to consume more jelly beans than bunnies on Easter. There's just no room for Bugs in those plastic eggs EB tosses out on the slopes.
Grab a basket and see for yourself on April 5-
Park City Mountain Resort
The Easter Bunny supervises a special egg hunt for kids under 6 in the Kid's Korral at 9 a.m. sharp. Older children have an Easter Egg Hunt on the First Time face and adults can comb the mountain in search of the Golden Egg (containing a season pass) in the all-mountain hunt. EB scatters more than a hundred eggs for early risers to find. some have candy, others have fun prizes like alpine coaster tickets.
Deer Valley
The Easter Bunny visits Deer Valley's Snow Park Lodge from 9 to 11 a.m.
Alta
Make sure you have the kids in front of Alta Java at Albion Lodge at 11 am. sharp to meet the Easter Bunny and find some of his hidden treasures buried in the snow. They will have three groups: 4 & under / 5-8 years / 9-12 years.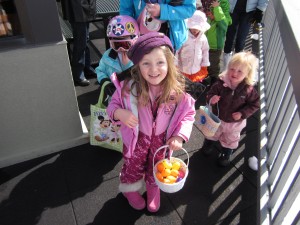 Brighton
Dress like the Easter Bunny this Sunday and ski for free!! The Easter egg hunt in and around the Milly Chalet begins at 8 a.m. and will keep all ages entertained. Make sure to bring your boots, because you never know where the Easter Bunny hid his eggs! Grab some pancakes at the Milly Chalet. There will also be hard boiled eggs to dye and decorate.
Snowbird
Snowbird's Easter begins with the annual Sunrise Service on Hidden Peak followed by a Pancake Breakfast Buffet at the Rendezvous or the Aerie Easter Brunch. Kids 6 and under are free.
The egg hunt starts in Chickadee Bowl at 9 a.m. for children up to 11. The three age divisions are: 4 & under, 5-7 and 8-11.
Snowbasin
Bring the children up to Snowbasin Resort for an Easter Egg Hunt and to see the Easter Bunny before enjoying a delicious Easter Brunch. Kids under 6 scramble at 10 a.m. Those 7-12 can get their eggs at 11. The Easter Brunch is from 10:30 am – 4:30 pm. Reservations required.