X-DANCE Says NoDance to SUNDANCE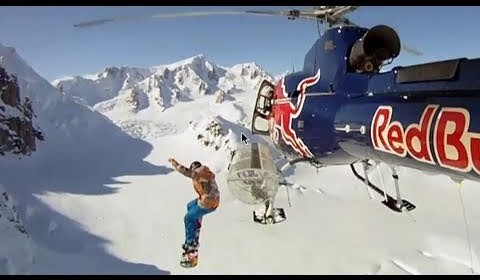 It's a well-known tactic to create a festival to piggyback the marketing machine that is the Sundance Film Festival. Over the years there's been Slamdance, Tromadance, Slamdunk, and X-Dance. For the first time ever the GoPro X-Dance Action Sports Film Festival will fly solo. Get ready and get your tickets for the (pretty much) only action sports fest in the world, January 12-15, 2012. "X-Dance has reached the point where we can stand alone and not run during Sundance," said X-Dance's Ann Wycoff. "We wanted to have the festival over the long weekend as the timing was better to celebrate these terrific films."

Filmmakers and athletes from around the globe will arrive at the Depot in downtown Salt Lake City (13 North 400 West; 801-456-2800 www.depotslc.com) to showcase and celebrate the best of the best in sports like skiing, surfing, mountain biking and more.
"It truly is the best of action sports. Nowhere else will you find all of the top athletes and filmmakers under one roof," says surfing legend Laird Hamilton, a long-time X-Dance supporter.
This year's line-up features athletic talent like speed demon snowboarder Shaun Palmer, extreme skier Seth Morrison, aloha surfer Jamie O'Brien, snowboard medalist Scotty Lago, and downhill mountain biking madmen Gee Atherton and Sam Hill. Curt Morgan, the director/producer of That's It, That's All, has a new epic film this year called The Art of FLIGHT that follows snowboarder Travis Rice around the globe as he conquers new terrain. The film's cinematography is said to be mesmerizing, shot with a Phantom and a Cineflex, the same cameras used to shoot the Super Bowl and "Planet Earth." Top wakeboarder Danny Harf will also attend the festival to present his film, Defy. Legendary filmmaker Jack McCoy will be busy getting the Lifetime Achievement Award at X-Dance 2012 and the same time premiering his film A Deeper Shade of Blue, which explores the roots and soul of surfing from the perspective of this legendary action sports filmmaker. He's also produced a music video called Blue Sway with Paul McCartney that will be screened as well.

Tara Dakides at X-Dance. Photo courtesy of X-Dance

The top 30 accepted films from the hundreds of submissions will be screened for the public starting Thursday, January 12. The producers, directors and many of the athletes will be on hand for Q&A sessions after the film screenings. Park at the Gateway Mall, in the lots nearby, or on the street. Tickets are available through SMITH TIX and The Depot Box Office for
$8 per film, $5 for students, $15 for a day pass, $30 for a 3-day pass, $25 for students. For a detailed list of films and events go to www.x-dance.com. They are constantly updating the site as plans evolve so please be patient.

Don't Forget the Parties

The Opening Party on Thursday, January 12 features live entertainment and is (unlike those for Sundance) open to everyone. Tickets are also available at The Depot Box Office. Same goes for the X-Dance Awards Ceremony and Closing Party on Sunday, January 15 at 7 p.m.
Industry stars and celebrities join bands and DJs while the extraordinary VJ transforms the enormous room into a mesmerizing, wall-to-wall montage of action sports imagery. And finally make sure you stop by Swag Town at a special area at The Depot for action sports swag, the latest products and sampling from X-Dance's favorite action sports brands.


Trailers for "Must See" X-Dance Films:
The Art of Flight: Brainfarm Prods.: http://www.youtube.com/watch?v=kh29_SERH0Y
All. I. Can. : Sherpas Prods: http://www.youtube.com/watch?v=AQD5gEr76y4
Solitare: Sweetgrass Prods: http://www.youtube.com/watch?v=YKUhGwGM3fA
Drop, My Life Downhill: Orangefist Prods: http://www.youtube.com/watch?v=M0gbjy7CvoA
Frontier, River Roots Prods: http://www.youtube.com/watch?v=LVT6QsRDt_M
3 Minute Gaps: Clay Porter Director: http://www.youtube.com/watch?v=VMUfvNqKQdw
Boardroom, Markus Davids Dir.: http://vimeo.com/7643212
Walls of Perception, Poor Boyz Prods. http://www.youtube.com/watch?v=CvXt7YSDkT8