Winter Glamping and Gear For Cool Comfort

My job really sucks sometimes. January is here and that means a slew of events that I just have to attend. The Outdoor Retailer Show (OR 2016), Sundance Film Festival and the SIA ski show in Denver, Colo., to call out the majority.
There is also teaching at Canyons over Martin Luther King weekend. Between OR moving their dates up by two weeks to accommodate retail buyers, and Sundance pushing back their first weekend to accommodate Park City ski tourism, I'm "forced" to do it all instead of having to choose. Oh, lucky me. Oh boo hoo, right? When SMAK PR and Allied Feather and Down invited me to a preview winter glamping event do you think I considered saying no?
Not one to miss an opportunity, I said yes and hopped on a Scott fat bike to begin my afternoon of adventure.
Starting Your Winter Glamping Adventure
Scott bought us all lunch at Park City Bread and Bagel to make sure we had the fuel for our ride on the snow-packed, East Canyon Ranch Road, just past the Jeremy Ranch Golf Course in Park City. I've never ridden a fat bike in the winter time and in general I'm not much of a biker so I was curious to see how sketchy it would be.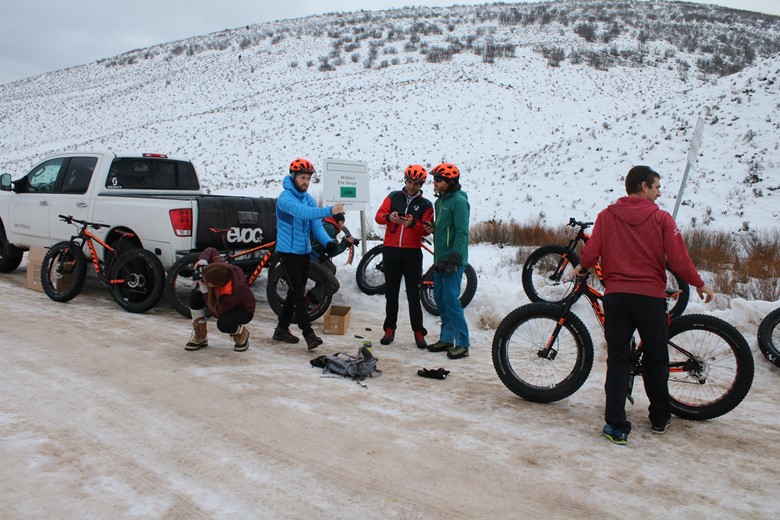 To my delight I had just the right number of layers to stay warm and the tires had just enough nubs to keep me upright. We rode for about an hour out and back, and the dog finally got the exercise he needed.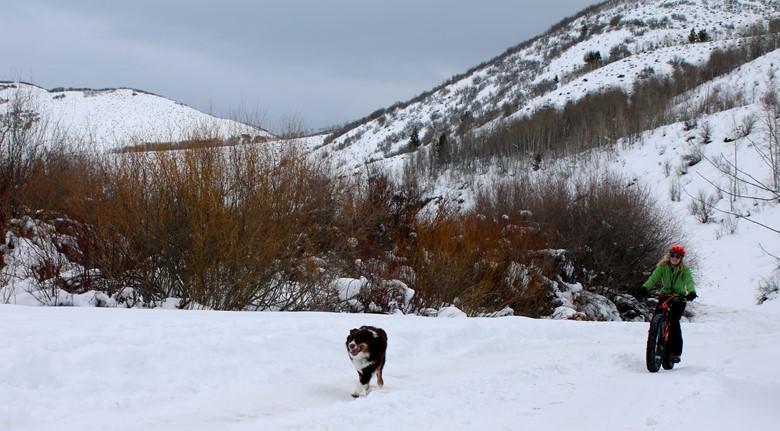 He was in heaven and it dawned on me that if ever there were a place to rent fat bikes it would be a great winter activity for us. Unfortunately the shops in Park City put away their bike gear in October and haul out the ski gear; never the twain shall meet. At least not yet.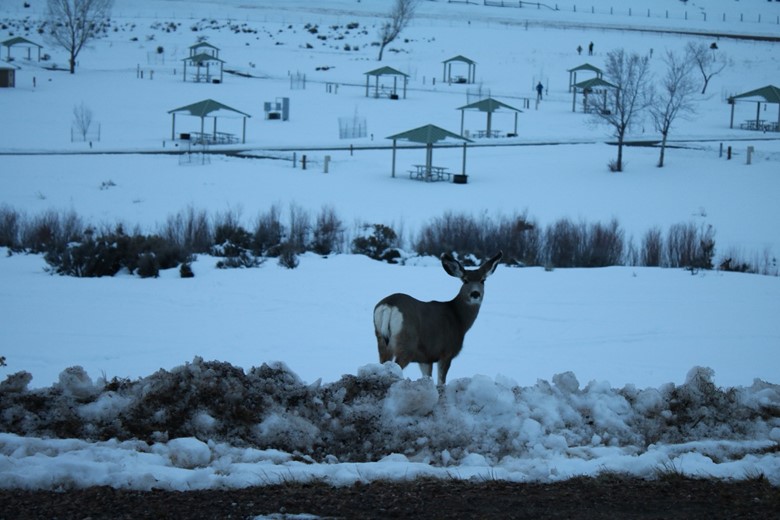 When we wrapped up, we drove to East Canyon State Park to commence glamping. Deer dotted the landscape as the light waned on our snow-covered site near Henefer. I had no idea these yurts even existed.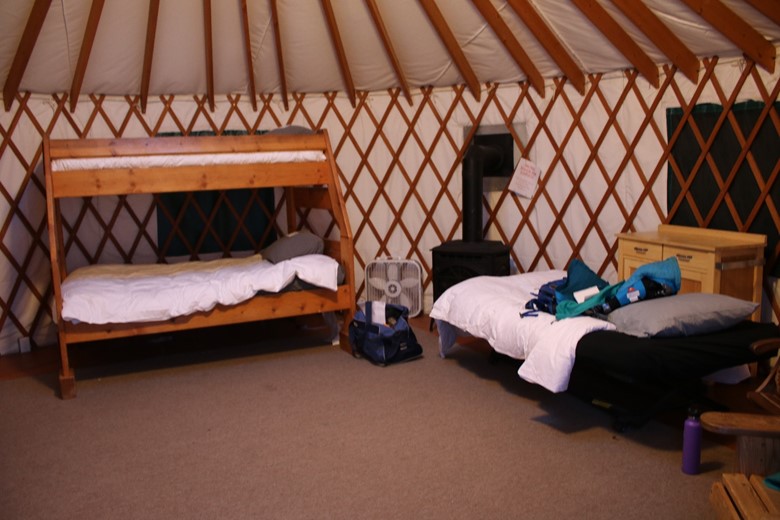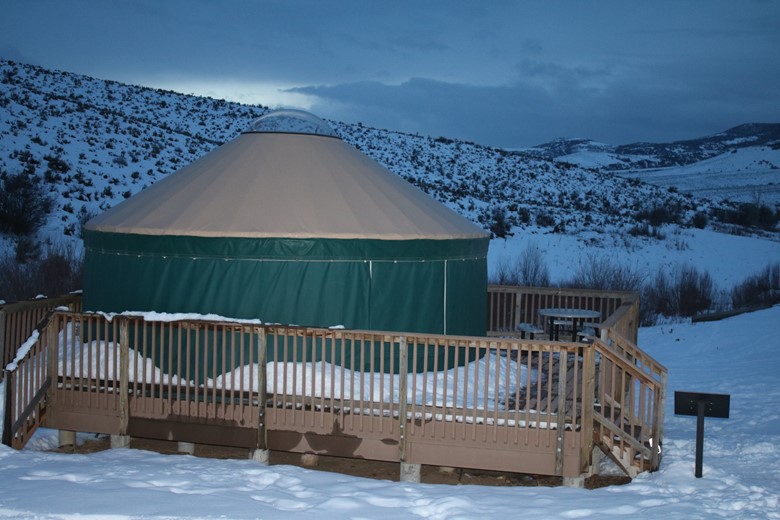 The potbelly stoves were blazing and ample beds dressed with Allied down pillows and comforters provided the ultimate luxury winter camping stay. I would have fallen asleep right then had not the gourmet table been set and the cask uncorked.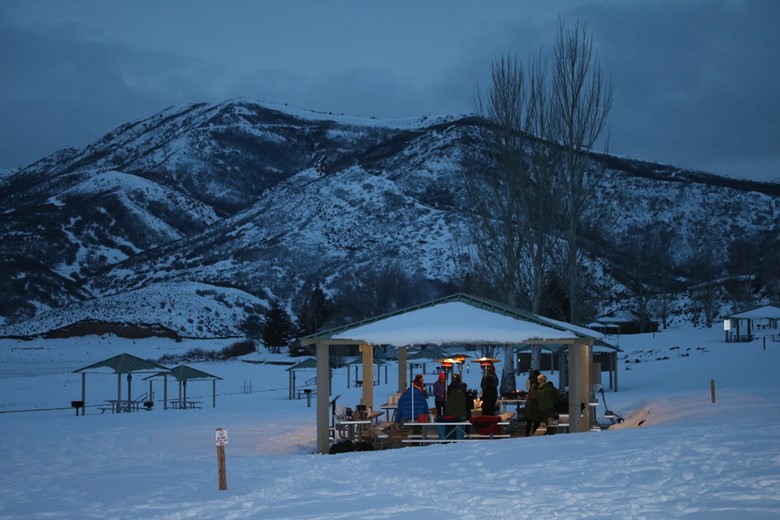 Farm to table food was coming at us rapid fire, prepared by Allied's own creative director and former sous chef Matthew Betcher you quickly forgot you were in a state park in Utah.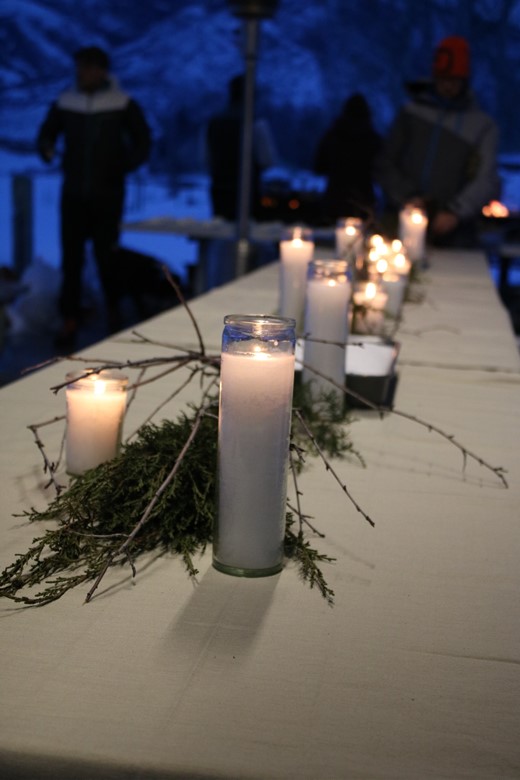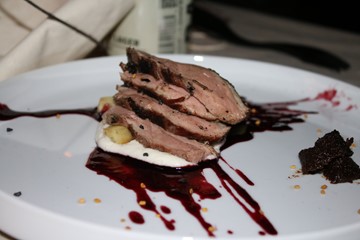 The Gear For Winter Glamping
The best part of the evening (aside from curling up in a responsibly sourced down comforter) is getting hands-on playtime with new products and gear:
Farm to Feet adventure hiking socks– 100-percent American-made socks with seamless toe closures.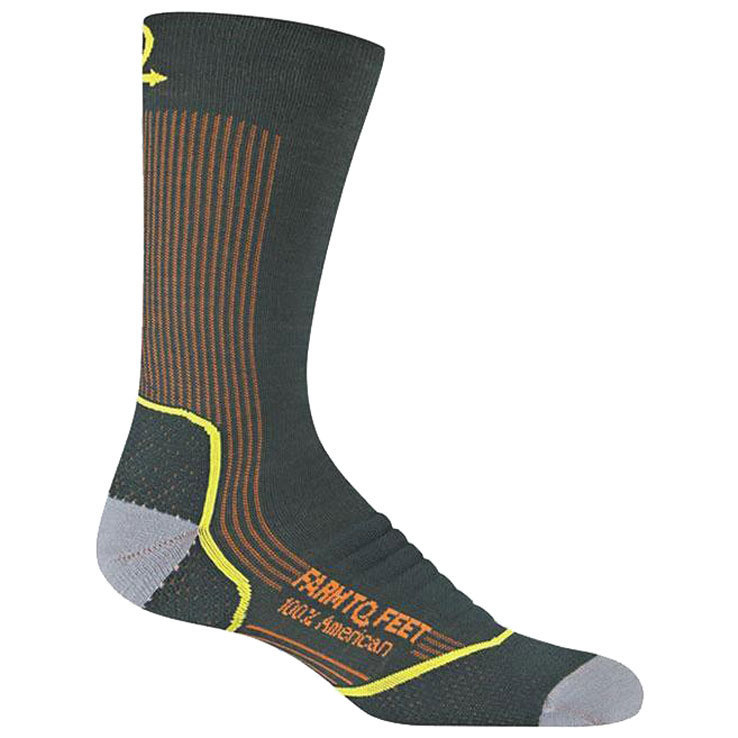 Uco headlamps– a simple, lightweight non-bulky headlamp that burns an adjustable 120 lumens.
A killer flask setup from Stanley 
– 
An Allied Down throw (with a Track My Down QR code to see where my particular group of feathers came from and how it got to me) doubles as a seat cushion to keep our bums warm.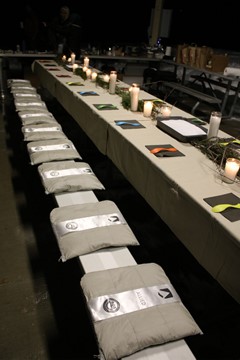 Helly Hansen balaclava, and YakTrax to keep us from slipping in the parking lot.
We retired to our yurts to play with our new toys. Eventually, it was lights out. I slept like a baby until the howling of distant coyotes wrestled me at 3 a.m. I donned the Uco headlamp and stumbled to the bathrooms to return unable to sleep. As I lay wide-eyed and staring at the bottom of the upper bunk I wasn't frustrated.
Instead, I cherished the quiet night in the wilderness and my brief moment of stolen time before the chaos began. It was then I realized that ultimately this is what the OR Show is all about; giving us the tools for nights just like this.