72 Hours (and Change) in Palm Desert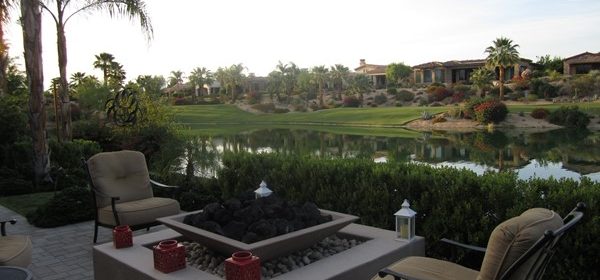 It was a family affair. My brother Joey was taking his family to Palm Desert – 30 minutes southeast of Palm Springs- in the Coachella Valley, Calif., to sit in on some timeshare chat at the Westin Desert Willows. For $350, he'd get four nights' lodging and Starwood points. My mom already has Starwood timeshare weeks so she booked herself and Dad into a neighboring two-bedroom unit at the Willows and invited us to join in the fun. The temps in Utah were hovering around 40; it was 90 in Palm Springs so we grabbed the swimsuits with pleasure.

Off to the California desert we trucked. We pitstopped about six hours into the drive, sleeping at the Virgin River Casino in Mesquite, Nev. For $27, we bedded down in a clean, pet-friendly double-queen, QUIET room, slept soundly and got back on the road at 10 a.m. after recording a quick audition. There's a web series casting in Utah and even on vacation I still want the work.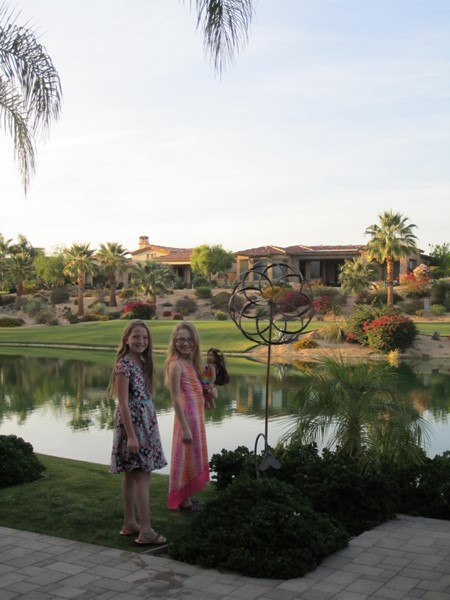 We stopped for an over-priced but satisfying breakfast at Webster's Sports Bar that cost us an extra hour of drivetime because of the slow -yet warm, friendly service- but it beats eating eggs in a smoky casino.
We rolled into the Westin at 4 p.m., dropped off the luggage, said hello to my parents and dove in the pool. A total of 10 hours spent in the Cherokee.
By 6 p.m., we were dressing to visit my Mom's long-time friend Sandy who had purchased a gorgeous golf-estate so she could transition out of Beverly Hills.

Dinner was at Ruth Chris. I'm not particularly psyched on dining at chains when on vacation but it was one of the few places happy to accommodate a party of 11.

Night came and although I was exhausted, the Harley like rumble of the AC was ridiculously annoying.

DAY 1

Our first official day in Palm Desert started with audition taping. Both Sage and I had clips dues before noon and boy was Sage angry. All she wanted to do was play in the pool with Cousin Tess and here she was working. Tough. I cut her loose at 10 a.m. finished my own project with Ryan's help and met my brother and his family at the pool for lunch and cocktails.

The $10 margaritas dropped to $5 at 4 p.m. so we stayed till then, had a drink and went back to the room to shower and change for take and bake pizza and salad from Wal-Mart. I love staying at places with kitchens. Dining out is fun and tasty but it's such a production. Much better to hang back with everyone and cook a few nights.
After dinner Ryan and I snuck away to check out the weekly Villagefest in downtown Palm Springs. Every Thursday night vendors, artists, entertainers, and produce growers set up booths along Palm Canyon Drive. It's like Park City's Sunday Silly Market except it's only open from 6 p.m. until 10 p.m. We finished the night with blueberry mojitos on the patio of the Hyatt Palm Springs while listening to a couple of talented performers sing and dance to current covers.

Day 2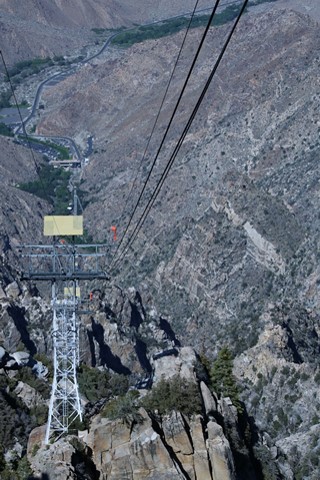 Aunt Stacey took the girls (Sarah, Tess and Sage) to get manicures and a movie (Jungle Book), Mom shopped for Passover dinner and Joey, Ryan and I checked out the Palm Springs Tramway. Built in 1963 the two-car scenic adventure charges $25 to whisk locals and tourists 8500 feet out of the desert heat for an afternoon in the mountains with 500 miles of hiking around Mt San Jacinto State Park. It took helicopters some 23,000 missions over two years to create the five towers and the 35,000 sq. ft. Mountain Station. Engineers labeled it the "Eighth Wonder of the World."
Gotta say the rotating floor made this way cooler than the Snowbird Tram.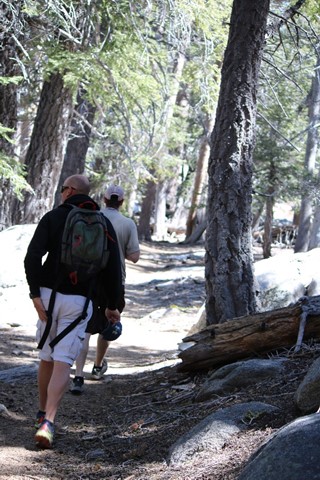 We hiked a leisurely 4-mile loop, passing snowy swatches at the upper- most tiers, exchanging nods with several international foreigners with walking sticks. The 60-degree temperature was a cool relief to the 90-degree valley below.

We stopped at Great Shakes in Palm Springs on the way home because of a craving and Yelp reviews. Thanks, my Peeps, you didn't steer my wrong. Thick mint Oreo shake with a mini donut circling the straw. As Vincent Vega said, "I don't know if it's worth $5 but it's pretty fucking good."

We were back in time to shower before the family Passover dinner courtesy of Gelson's deli counter. We chilled, drank wine, dined on matzoh ball soup and brisket and bonded over James Lipton's ten questions. It's weird for me to travel long distances only to chill. I guess I'm not a good vacationer. I like to get out and do as much as possible and see as much as I can in whatever time I've got. This crowd is a poolside, lounge chair, sipping-adult-beverages crew. Working office jobs puts you in that mindset I guess.

Day 3

Still not sleeping well. Damn air conditioner. The mattress, linens and pillows facilitate the dreamstate but that god-awful sound takes a machete to all that. Ear plugs on my next trip. I scrounged up the energy for a power shower and we all met at the tiny El Paseo Grill. The breakfast menu isn't extensive at the counter-service café but the scramble with cheese, tomatoes, broccoli, and grilled breakfast potatoes did the trick.

We said our good-byes to Uncle Joey, Aunt Stacey, Cousin Tessa and Sarah and drove to the Desert Hills Outlet Mall for one of the most intense shopping experiences I've ever seen. Nothing beats a sale on the sale stuff and there are 180 stores to choose from! Not to mention the selection in California beats the fashion sense in Utah.

Six hours later, we headed to Las Consuelas Terraza in Palm Springs for beef fajitas with my parents. The place has an authentic feel with the delicate sounds of live Mariachi music floating through the large, enclosed courtyard but we moved inside to the darkly lit, tiled dining hall to avoid the evening heat. The fresh chips and salsa and margs were a satisfying start after a long day without lunch but I was a bit disappointed with the rest- a handful of squash nuggets, one broccoli bit and palm-sized pile of beef strips.

We drove the 20 minutes back to the Westin, fat and tired. A late night challenge match on the tennis court – Sage and me against Ryan took us up to 10 p.m. and lights out- literally, the court went black.
Time for another night I knew would be rough. And that was that. We were leaving in the morning. Sad to leave the sun and warmth of family but soon I would be back in my own bed. Back to the cold temps, the fresh snow and pines instead of palms, and a good night's sleep.