An American in Disneyland Paris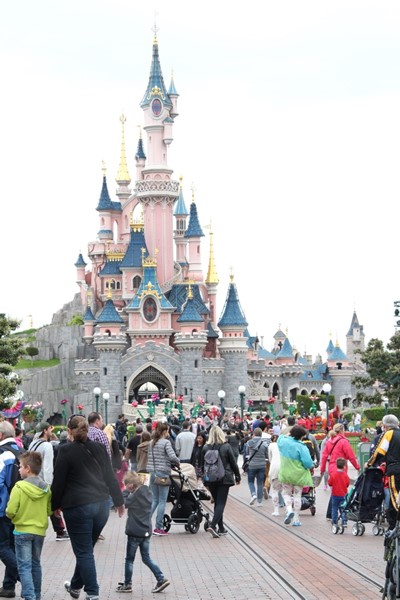 I was apprehensive at first. As much as I love Disney, I had read that Disney Paris – with separate owners and operations (Euro Disney S.C.A. is a publicly traded company. The Walt Disney Company has only a minority stake in the business) -was more of a cheap imitation of the real thing than an addition. Built in the beet fields outside Paris in 1992, Euro Disney took Europe by storm. And by storm I mean controversy; to the point that the EDSCA worried of financial ruin. There were strikes, railroad shutdowns, injuries from the new Indiana Jones ride after the emergency brakes malfunctioned, low attendance. It was tagged a "cultural Chernobyl" by the French.

Attendance in 1992 was about half of their expectations. It took some time to get the recipe right but EuroDisney restructured their finances and opened Space Mountain in 1995. Finally, they turned a profit.

Oh the irony on this most recent day in May, 2015. The crowds were huge and Space Mountain was closed until July for renovations. Drat.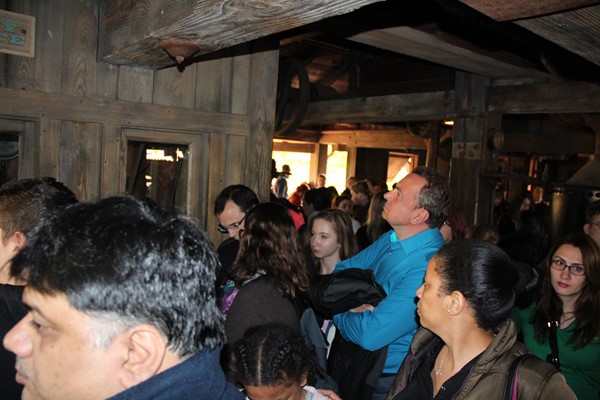 These were some the longest lines I've ever waited in at a Disney Park and I couldn't even ride the main attraction. Granted, I go to Disney on a non-holiday weekday while school is still in session and apparently last Friday was a French holiday. In France it also depends on the time of day you hit the rides. I did hear the long lines all but disappear by dusk.
We got to Disneyland Park (the other park at Disney Paris is Hollywood Studios) an hour after opening and chose Star Tours as our first event. Big mistake without a fastpass. The two-hour wait was enough to send my parents back to their hotel room.
Unlike the rides in the U.S. there is absolutely nothing to keep you entertained while you wait. No dioramas, faux villages, or TVs, or decent music. Just standing in long mazes feeling your energy drain to your toes. If only they offered park-wide WiFi. That would have helped kill the time. I downloaded the official Disney Paris app but little good it did without a connection.
Ryan gave me grief that I would travel all the way to France 'just to go to Disney' but the lines for the tourist attractions in the city are about the same and I'd much rather be walking through Fantasyland than the Louvre. Sure, some of the rides and themes are the same as you'll find stateside- Sleeping Beauty Castle, Dumbo, Autopia, Phantom Manor (aka Haunted Mansion) – but their reinterpretation is the draw. Slight twists on the architecture, the attitude, the storytelling. That's what I was anxious to discover and that's what made the day exciting and fun.

Notably missing here are the Enchanted Tiki Room, Innovations, Little Mermaid Ride, Nemo, Jungle Cruise, anything Frozen, the Matterhorn.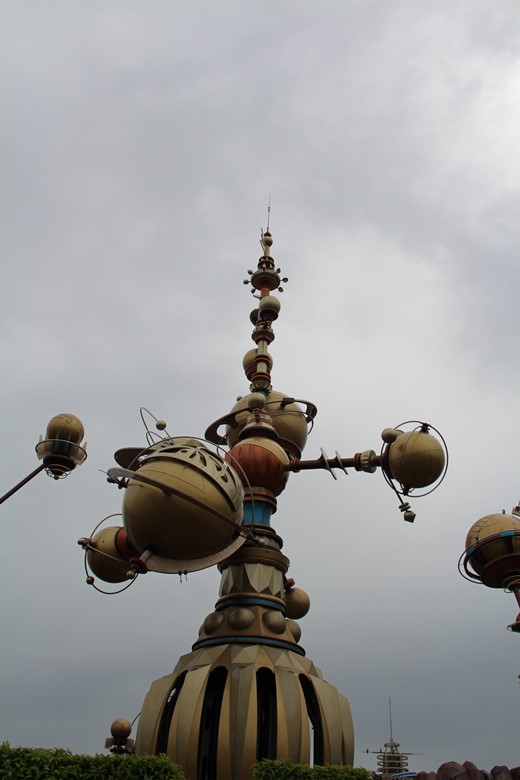 We spent most of our time on the Frontierland side as there wasn't much going on at Discoveryland (aka Tomorrowland) with Space Mountain closed. The submarine ride was also under renovation. That left Star Tours and the Buzz Lightyear laser ride/game. With fastpasses, we were in and out of that one pretty quickly. 
Lots of areas were walled off for renovations. IMHO, Disney Paris needs more and unique attractions like Ratatouille on the Hollywood Studios side if they want to draw a universal Disney crowd all the way to this little French countryside of Bailly-Romainvilliers. Not to mention spreading the traffic away from the few star attractions.
There isn't a single, Single Rider line in all of Disneyland Park and it's sorely needed. There are fastpasses but the kiosks were shut down by lunch. And then there are the rides that kept stopping. We waited in the Phantom Manor line for 45 minutes only to be told the ride was down and they were not sure when it would be working again. So we ate and waited.

The park food was as-to-be-expected. Here's where all of Disney could take lessons from Deer Valley Resort. Just because you serve cafeteria food doesn't mean it should taste like cafeteria food. If ever there was a reason to pack your own lunch it's Disneyland. That said, we were starving so ducked into Hakuna Matata café for a curry chicken salad, pita sandwich and an ice cream bar (about $14). The best thing I can say is that I didn't leave feeling gross like I do at the fried places in California's Disneyland. However, in the states you go to Disney as much for the infamous snacks as for the rides- Dolewhips, Mickey bars, beignets, Mickey pretzels, Cheshire Cake Cup, but it's not the same in DP. In other words, no carrot cake cookies. DP does, however, have delicious chocolate waffles with whipped cream- 'guafres' – all over the place.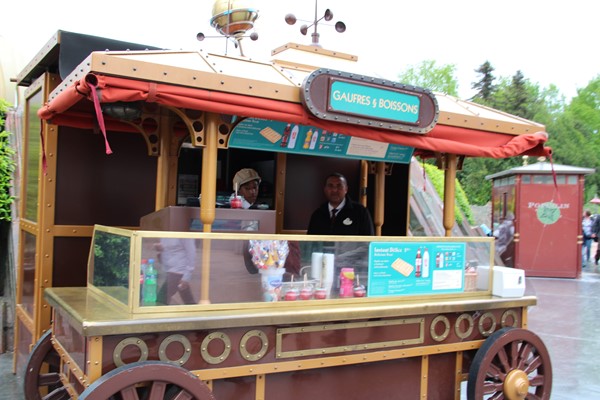 Europeans must need a lot of places for their kids to roam. All over Disneyland Paris there are play areas. All I can remember in the states was Swiss Family Treehouse and Tom Sawyer Island. Here there's Pirates Beach, Adventure Isle, Alice's Curious Labyrinth, Pocahontas Indian Village, and this large area with suspension bridges and caves. It's probably good to have places to run around after standing in lines for hours. We did like the French and played hide and seek in the caves and fake waterfalls between Fantasyland and Frontierland; and chased each other through the maze of Alice's Labyrinth.
.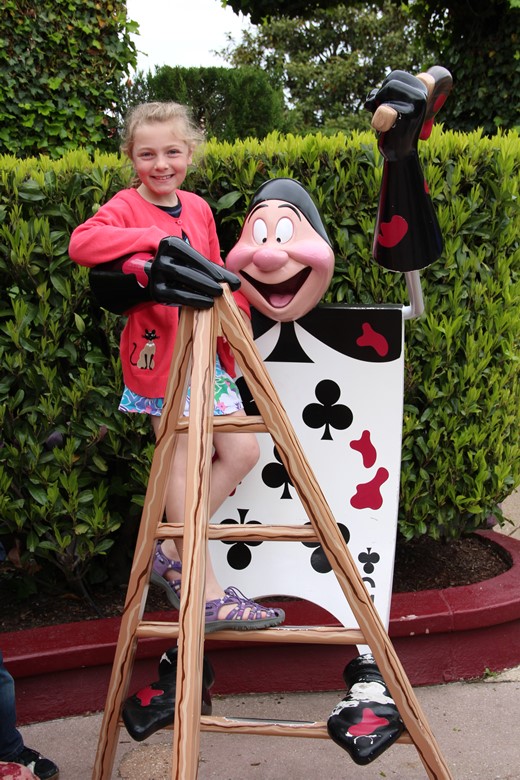 It's A Small World felt even smaller in France. Usually you can't possibly take in all of the animatronics in one float; here, there seemed to be too much open space. It was cute, however, to see the homage paid to the U.S. with old west scenes and Hollywood.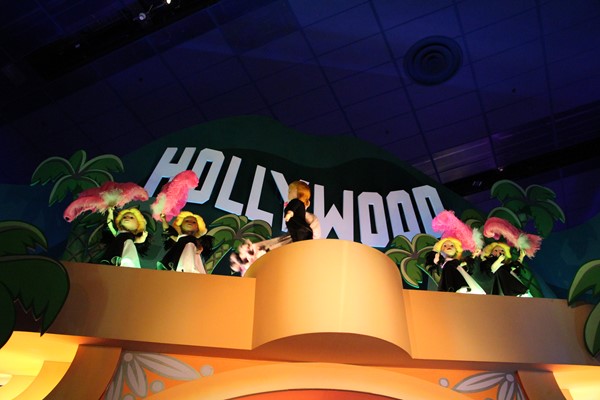 Yes, everything recorded was in French including the overhead pirate but by now any Disney fan knows the spiel. By the way, the Pirates ride is awesome. My favorite part is when you plunge into the 'sea' right at the beginning and in France you get TWO drops.
Indiana Jones is a kind of a baby rollercoaster when compared with Everest at Animal Kingdom and nothing like the Indy 'dark' ride at Disneyland. You'll be a bit confused why a crowd would cue for 90 minutes or more to ride it. They do offer a Fastpass but the machines were closed for us. Big Thunder Mountain, however, was the best ride in the whole park. It's still not worth standing in line for 90 minutes (nothing rarely is) but thrillseekers will love the completely dark sections of track and a coaster that lasts longer than a thought.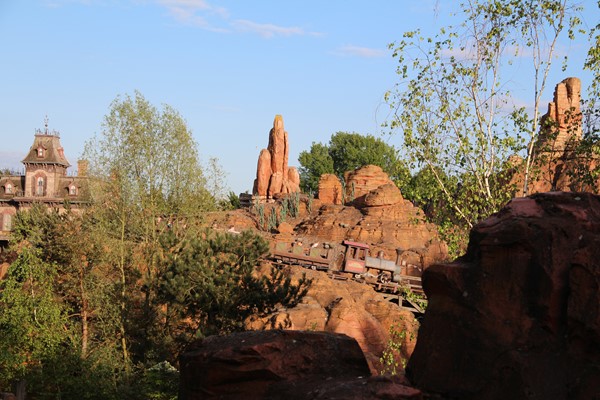 The biggest difference between DP and Disney U.S. is they allow smoking everywhere in this place. Or maybe they don't and the French don't care about rules. I love the magic of Disney- the Happiest Place on Earth- but I'd be a lot happier if people would put out their f*&king cigarettes. Kids don't need to be exposed to that and neither do I.
The parks smell like an ashtray and smashed cigarette butts fill the cobbled streets. Random trash does as well. You would think DP would have the same trash system with cans every 30 steps as per ol' Walt's rule. He observed that guests in other parks would walk no more than 30 steps with trash in hand before dropping it. I felt like dropping trash too as I couldn't find a single can in sight.

Disney is Disney anywhere in the world so I quite enjoyed myself despite the pollution. If you have never been to Disneyland Paris it's definitely worth a visit for the cultural Chernobyl alone and it's great that Europeans have this kind of themepark. But if you live in the states and have access to California or Florida you'll realize you only really need to visit DP once. There are so many unique places and experiences to be had in this romantic region that DP is just one of them. Like the Catacombs…..

And if you can't get to France, get to California for Disneyland's Diamond Celebration. The house of Mickey is celebrating 60 years as the Happiest Place on Earth. Yep, for six decades, the Disneyland Resort has been bringing charming attractions and inventive entertainment to kids of all ages. If you're looking to book a Disney vacation, check out GetAwayToday. The Utah travel agency is known countrywide as the place to do Disney up right.