Slide The City Makes SLC Slide Lake City

I gave up the Slip and Slide when I was 15. It was all the rage on a hot summer day; roll out that yellow sheet of plastic on the lawn, hope you didn't lay it over a sprinkler, spray a bunch of water with the hose (leave it running) then go to town for a good two to three hours of tummy diving. But alas it was yet another thing we outgrew as adults. Think of the funny looks you'd get from neighbors.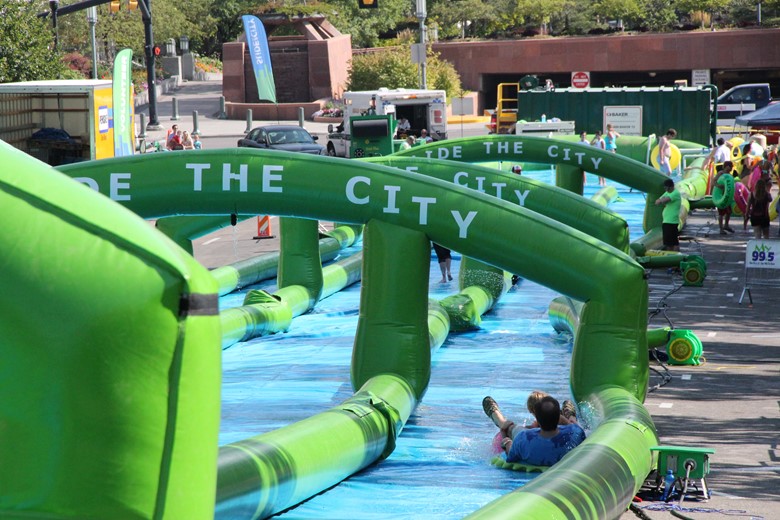 Well, the folks at Slide The City have turned up their noses at convention and tapped into – pardon the pun- that nostalgia and childlike fun by turning a backyard pastime into an annual event for all ages. Last weekend wasn't Slide The City but Slide Lake City in my book when the organization unfurled a giant, four-lane, inflatable piece of vinyl in downtown Salt Lake City.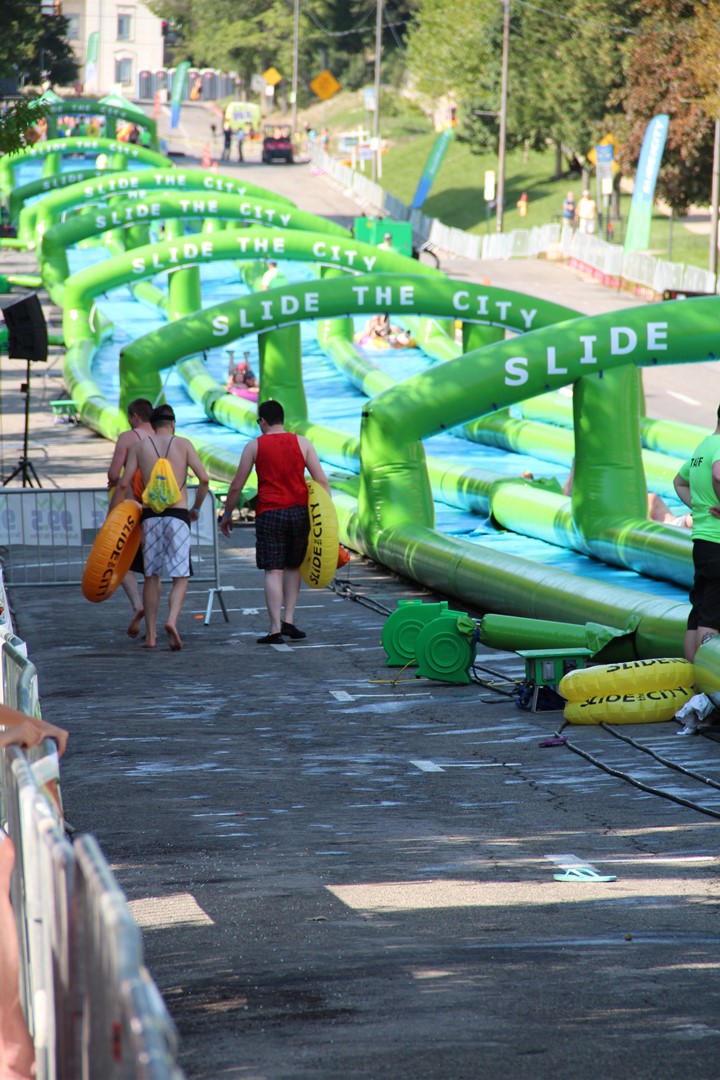 Last year's inaugural event drew crowds of curious onlookers and this year nearly 3000 men, women and kids in bathing suits and smiles got down and wet. Some citizenry were concerned about safety issues but the Health Department gave the green light to allow thrillseekers their moment(s) in the sun. All it took was a wristband and some sort off blowup tube and you were on your way.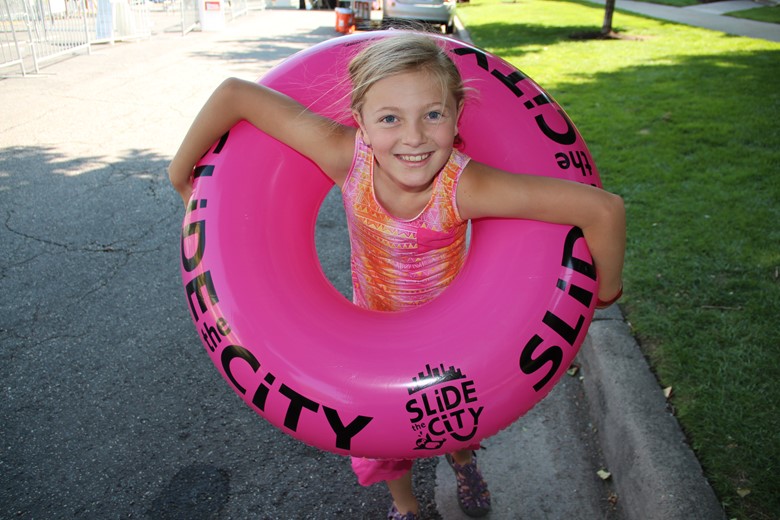 Although the slide opened at 11 a.m. we waited for the heat of the day at 4 p.m. We hiked north up to the top of the three block stretch from North Temple. Sage couldn't quit grinning with glee as she bounced her official STC tube on waist. Her red wristband gave her five tries and she planned to use every one of them. For a lazy kid, she didn't even mind hiking back to the top after each slide. I could see how a golf cart shuttling people would come in handy next time. We expected a Lagoon-length crowd but there was no line. We quickly slopped on the sunscreen, then flopped on our tubes. The volunteers gave us a shove and sped quickly down the track only to slow up exponentially as the street flattened. No need to fear a crash at the bottom. We actually had to use flailing hands to push our way through the last 50 feet. By the fifth round, however, I knew what I had to do for optimal speed. Disengage from Sage. We had been connected thinking the weight would propel us but in the end, going solo was the ticket. Shoot for the lane that has the most water coming off of it, lay on your stomach and you keep your knees and feet up. Aside from the few knee scrapes, the fun meter was off the charts. I couldn't stop smiling and whooping. I wasn't the only one either. Last year's event did so well, the company has been moving that slide around to more than 50 U.S. cities like a regular carny ride.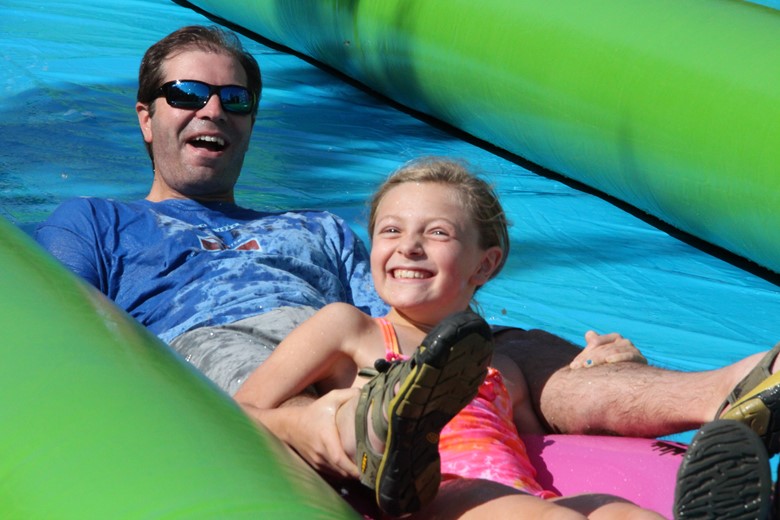 By the 5th run, however, we were done. That's a lot of hiking that sneaks up on you. Despite her enthusiasm, Sage was done too- but already begging to return next year. I promised. What's a mom to do?

If you want to do Slide the City, make sure you sign up on the mailing list so know when the loyalty pricing opens and can get the cheapest tickets. Day-off registration was $30 for a single ride!!  Oh and if you can't wait until next year to try, there's a Slide The City event in Orem on Sept. 5. Save $10 by registering online.