Tourist For A Day (or Two)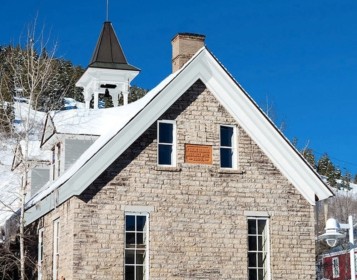 I just had a sweet relaxing day as a tourist in my own town. That's right. I checked into the newly remodeled, newly deluxed Washington School House hotel in Old Town Park City. I'm sad to report that we locals won't get to walk through a haunted house during Halloween anymore but guests staying at the hotel will love the consequences of nicing things up. Count on a new pool and hot tub with mountain views and an original 2002 Olympic fire cauldron for one thing.

I'm usually the go-to person for advice on all things Park City but it's not every day I actually get a chance to stay in a local hotel, let alone a B & B as fancy as this one. But it wasn't always like this. The WSH, built in 1889, obviously needed a renovation after its long history and the duck emerged as a swan of a boutique hotel in January 2012. Eight months of interior guttage and design from Paul Allen Design and architect Trip Bennett have crafted 12 Old World suites and rooms that smell of fresh paint and look pure resort colonial.

The St. Regis, Montage, Escala, Waldorf-Astoria hotels moving into Park City have paved the way for smaller lodges to remodel and lure some of that elite audience who might be looking for something just a bit cozier. They'd have a tough time resisting the School House's original quarried limestone exterior, which has been protected with the installation of a new standing seam metal roof, hardwood floors reclaimed from old barns, 16-foot ceilings, a 10-foot tall antique mirror from an opera house in the south of France and a one-of-a-kind massive antler chandelier in the breakfast room, lacquered in white and layered with crystals.

Can I take home a towel please?

The rooms host king and queen beds, Pratesi linens, down feather beds, Lynova microcotton towels, nine-foot school house windows with automated blinds, ice-white marble bathrooms, heated floors, a showerhead to die for and Molton Brown toiletries. Everything feels soft on your skin.

Walking Distance

The hotel has a designated van to transport you to Canyons or next door. "We actually had our driver take guests to the Riverhorse which is literally directly across the street," said Jessica Davis, WSH's General Manager. "But we accommodate all needs." You can walk a block to dinner at High West Distillery and stumble back or call for a ride.

When it's morning, it's a gourmet eggs Florentine with purple roasted potatoes and bacon drizzled with maple syrup. Skis on the Run swings by and drops off your skis and boots, preseleting them for you based on a form you fill out prior to arrival. As much as I wanted them to be wrong, the Volkl Aurora suited me just fine on this mushy spring groomer day. I used my own boots. I always use my own Lange boots. Then it's time to ski.

Park City Mountain Resort's Town Lift is just steps away; or get another van ride to the Resort Center.
I'm told you can ski out the back but didn't see that route. The way back is supposed to be more straightforward- just look for the hotel's "belfry" to navigate off the mountain and back to the hotel.

Soft pretzels and bison nachos anyone?

Reach for a glass of wine and fancy apps in the new chic ski lounge downstairs for après ski.

The bar is open. Your stay includes breakfast, après and all drinks. They're rolling out dinner in the next few months but that will be a la carte.

The WSH also has little toys for kids at turndown. Children were welcome in 1889 when WSH was one of the first school houses in Park City and they're still welcome today. Park City is a family place and even luxury boutique hotels get that. Of course, rooms start at $700/nt (but you might be able to find rates of $300 in the summer and off-season) so your kids better behave.

Reservations can be made by calling 800-824-1672.

P.S. The haunted house tour may be gone but the ghosts are still here. The WSH is a stop on the Park City Ghost Tours

[youtube http://www.youtube.com/watch?v=Y54sGfn8_zQ&w=560&h=315]