Local Foods Bring Old World Touch To Northern Utah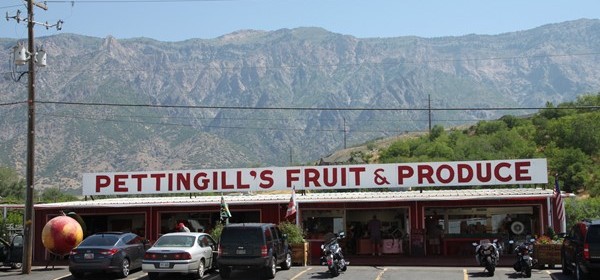 It makes sense when you think about it. A town has to explode in population before those mean old fast-food joints and giant, big box stores invade every nook and cranny, pushing out the mom and pop establishments. We're lucky that there are still smaller communities in the Cache Valley and Box Elder County like Logan and Brigham City  that have been able to stay true to their roots, with their hearts and hands solidly planted in a wholesome, organic, simple, agricultural existence. Take a day and head north for a food lovers tour of this charming area.
Start your day in Logan with a bold cup of Highland Grog or Logan Canon Trail at the family owned Caffe Ibis. The artisan custom coffee roasting house has been around since 1976 where it has evolved into serving Triple Certified, Organic, Fair Trade, and Smithsonian Shade Grown "Bird-Friendly" Arabica beans. Those seals mean the coffee is grown without chemical herbicides, pesticides, and artificial fertilizers or with minimal inputs. Their hot breakfasts are as good as their coffee. You can find whole beans at places like Whole Foods in Park City if you don't feel up to the 2-hour road trip.

We couldn't leave Logan, Utah, without a loaf. If it's the Sabbath. How about Challah? The name Crumb Brothers may not be widely known throughout the state but if you've savored the bread at the New Yorker or the Pub at Trolley Square you've tasted their fare. The artisan bakery is not just another place that overuses the term. No, 'artisan' adeptly applies to the 1000-1500 loaves John Reichert and his crew craft in their eco-friendly bakery charged with a geothermal heating and cooling system and surrounded outdoors with native plants.

Each day, nine to 12 different types of loaves are baked from ciabatta to polenta Jack and served in their front end café. Call for a tour for a behind the scenes look at bread making. (If only it was a hands-on tour.) The loaves are also sold wholesale to markets like Whole Foods and taken to seasonal farmers' markets.

Brigham City Fruit Way

Who needs a farmers market when you have a fruit highway? Stand after stand of locally grown fruits and vegetables are on sale daily from May to November along Highway 89 between Willard and Brigham City. Ten miles of peaches, plums, apricots, tomatoes, snap beans, zucchini and more are hand-picked by local farmers and friends from the 30-plus farms in the area. There are even U-Pick 'em places if you don't want strangers touching your goods.

Make sure you grab a fresh shake blended with chunks of your favorite fruits from Pettingill's when the heat starts to bear down.

They say necessity is the mother of invention. So when little Kyle Nanno was cruising back from Colorado with his family he noticed there was no place in Utah to buy raw honey. Eight years later the 25-year-old's The Honey Jar is winning raves throughout the state.

Unlike pasteurized, filtered honey, The Honey Jar's honey is as fresh as the day they squeezed it from the honeycombs in his own bee hives; filled with enzymes, pollen, anti-oxidants and yeast to promote healthy digestion. Rumor has it that a teaspoon of raw honey a day keeps the allergies away. Try the lavender, clover, dandelion or raspberry honey for added flavor and nutrition.

You can't eat these luscious dollops of soap art but they sure smell delicious. Becky Yeagar moved her Logan home business to a small shop near Main Street so even more people could enjoy her goat's milk creations. But the former chemist mainstay is still primarily internet orders and wholesale.

When skin is too sensitive for regular harsh soaps you just might appreciate the lavish indulgence of vitamins, minerals, proteins, and alpha-hydroxy acids found in Yeagar's goat's milk and shea butter creations like Utah Mountain Meadow, Logan Canyon Backcountry, and Bear Lake Raspberries.

Idle Isle's been making delicious handmade candies since 1921 and while the digs look like they could use a serious facelift, they better not dare fiddle with the nibbles.

Rock candy, chocolates, and fudge are all decadent and worth every calorie. Locals will recommend the Almond Toffee Cremes with their perfectly round soft butter-cream centers. Trust the locals.

The 50s diner on Main is your cliché greasy spoon. Mini jukeboxes in the booths, dingy flooring and open kitchen for generating the usual fare of burgers and sandwiches. Get an order of hand-cut fries and toss them back with a hand-made peach shake. Their ice cream is made on site so even if the atmosphere is stale, the treats aren't.