Things Local Skiers Assume Everyone Knows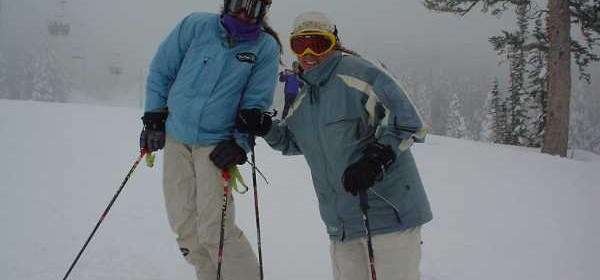 As I sat in in Alf's watching the world ski by including my daughter's AYC (Alta Youth Club) class, I overheard a woman behind me. "Did you know you can ask them to slow down a lift for you?" she said incredulously to her husband. It was a 'duh' moment but then humanity snuck in and reminded me that not everyone has grown up on a ski hill. There are probably countless 'duh' moments but here are some of the most widely known and widely unknown things about skiing.

If there are three people in a lane for a quad lift it's ok to join them. Sometimes you miss the singles line or worse there isn't one. So as you're standing in line for that quad or 6-pack go ahead and look around; there might be a gang a few rows ahead that has a hole to fill. Don't forget to say, "Excuse me" as you shimmy up there.

Lost and found collects hundreds of items every day and some of them were lost weeks before. Check in regularly if something goes missing. And if it's the day you lost it call the ski patrol in the area it was last seen. They can look for it when they sweep (scan and close the mountain at the end of the day).

Edges do make a difference. Ice, rocks, hard snow, transporting, everything combines to beat on your skis. Your edges dull and burr (nicked, jagged spots) in a day depending on the conditions so have your skis tuned regularly or buy a diamond stone and 'deburr' your side and base edges yourself. It's not hard. Do it at least once for every eight days you're out. If you're skidding a lot it might not be you. It could actually be your gear.


Ladies- Do not wear makeup when you ski. Not only do you look like a newbie but you'll look like a Dali portrait in two runs. If you must, get a tinted sunscreen or foundation with a high SPF, skip the mascara and use a tinted lip gloss.


Wear baselayers built for snowsports. Pajama bottoms and cotton socks don't cut it. Same goes for jeans unless they are Eider's Red Square Pant. Best ever denim-look on the ski market. The pants are steezing, waterproof, vented and super warm with pockets in all the right places. The raised waistband keeps snow from sneaking down your backside and adjustable side straps keep the pants snug on your waist without needing a belt.


Your hands and toes will get cold on cold days. There's no magic to protect you, except from those little hardwarmer packets you purchase separately. Which, btw, you should have on hand at all times. They cost three times more if you buy them when you need them.


There will be traffic if you leave a ski area at 4 p.m. Either duck out at 3 or hit a bar for apres until the riff raff have made it home.


Call ski patrol if you want the most accurate lift and area openings. I made the mistake of asking the first person who answered the phone at Alta when I wanted to know if Baldy was open before driving up to the hill. I put on all my gear, busted up to the top of Sugarloaf only to find the gate up. Baldy was closed the day before 'until further notice' because conditions have made it too sketch to ski safely.


Do not duck ropes no matter how awesome the snow looks on the other side.


If the restaurant is packed you can ask someone if they are about to leave and hover over a table like a quarterback over the ball.


Unbuckle your boots on the chairlift if they are tight. It'll relieve pressure and allow your blood to circulate to your toes.


Reapply sunscreen often. The sun at a resort is just as intense as at the beach. The wind, wiping your nose, falling, falling snow all contribute to diminishing your protection.


When you pop out of your skis in a fall make sure you reset the heelpiece of your binding so you can step back in.


If you are at all hesitant about getting on or off a lift ask the liftie to slow it down. Sometimes they smile and tell you what you want to hear and then never do it but most of the time they care.

That's all I can think of for now. Feel free to add your own 'duh' moments.