The Sun Appears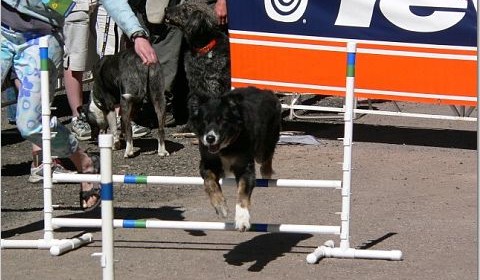 Rain, Sun, Rain, Sun. This is not what the weather forecasters would have predicted for us last year. What happened to global warming? Parts all over Utah are experiencing floods and rumors report that Snowbird Resort will try to stay open PAST July 4 because of continued snowfall at higher elevation. If Vail Resort had been open, I would have rented ski gear last weekend. We woke up to a blizzard on Saturday. Thursday and Friday were spotty as well and Ryan and I were thinking we should have stayed home in Park City.
Rather than mill around the Village checking out boothes at the Teva Mtn Games, we grabbed a langorous breakfast at the West Side Cafe and prayed for the rain to end. The mountain bike comps were cancelled and so were all of the free clinics supposedly scheduled for spectators.
Despite the weather, I can't quite recommend the Games unless you just happen to be passing through Vail and want an afternoon to check out boulderers and kayakers competing for big bucks. Kids will get a kick of the activities, the free stickers and the bright colors. The clinics, too, are geared for the little ones rather than the big ones. But the Teva Games ain't the Gorge Games. Sigh.
The events (from bouldering and biking to adventure racing and kayaking) are open to anyone but if you are not a competitive athlete there's not much to keep you occupied after a couple of hours. No free, outdoor live music (you had to buy concert tickets for the evening events), no demonstrations, no seminars for the general public, no active contests (like a tug o' war or scavenger hunt but there were plenty of raffle entries to fill out), no true clinics (it was more like an expert standing around to offer answers to your questions). The best part was the Ultimate Dog Challenge- a simple agility test open to any and all dogs for a $10 donation to the local humane society. Finally, something to participate in that didn't require skill! And my pup took second overall!! We recieved a cool toy donated by Ruffwear and a ceramic dog dish.
Overall, I guess I was expecting more of a festival atmosphere but the focus was squarely on the Games themselves. The big win for organizers is that the Games will be nationally televised. Maybe they'll be able to extract more $$ from sponsors to put on a show like the X Games or the Gorge Games; where there's something for everyone regarless of the weather.
This weekend is all about staying home, garage saling and enjoying some sun. I may even hit Snowbird for a few turns!