Outdoor Retailer and SIA Shows: Gone But Not Forgotten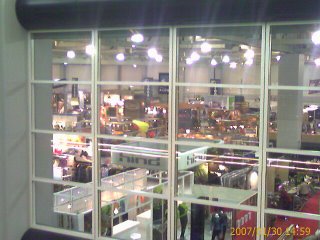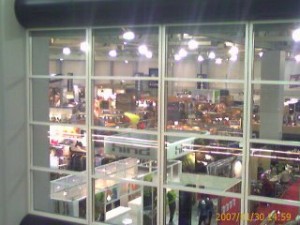 Perhaps the back-to-back dealings are finally registering with OR and SIA attendees. Both the OR and SIA shows seemed a tad slower this year. There were still meetings and buyers combing the floors of the convention centers but the activity was not nearly as vibrant in year's past. In addition, you heard a lot of groaninhg from crossover manufacturers as their buyers put off SIA meetings to see them at OR. "Why do we even bother?" murmured some sock companies.
The revved-up look of next year's outerwear made up for the slower pace. Boisterous boarder-inspired prints, plaids, tweeds and colors rocked the halls. We're flashing back to the 70s and 80s but without all of the neon. Kamik won raves both at OR and SIA for their psychedelic rubber rainboots for kids and women. Bonfire, Obermeyer, Liquid Boardwear, Five Seasons, Isis, Orage, all offered more feminie stylings and toggle-button jackets (where the closure comes across the chest like on a Chinese garment). Colors you'll see include more white, watermelon, greys, greens- even for men. Another noticeable trend was the number of new baselayer companies. Everyone's jumping on that bandwagon insisting their garment will produce the warmest/driest winter experience. Not only is Gordini (the glove manufacturer) making baselayers but they have entered the goggle market. In fact, next season you'll see a plethora of companies with goggles that attack the issue of switching out lenses for various lighting conditions. Eric Richter from Giro says their new Poptop goggle eliminates fingerprints, cracking and airholes you commonly get while trying to change out your lens. Just flip the toggle at the top and slide the new lens in. Back up a sec, Giro making goggles? Makes sense when you consider who better to close the gaper gap between goggles and helmets than the helmet giant itself. After years of research they've found a way to "map" the face, developing a comfortable goggle that has a nearly seamless fit with their helmet and gently kisses your cheek (rather than digs into it). Gordini's goggle works in similar fashion but you unclip the sides of the goggle to get the new lens to snap in. Uvex has been tweaking their Magic goggle to more efficiently jump from a light to darker lens with the push of a button. After last year's attention to the Snowskirt at SIA, Bonfire has come up with a pant that has a detachable skirt- fun and flirtly. As for hardgoods- skis are virtually the same but with updated cosmetics. Head's Monster series comes with a new torpedo-looking backcountry ski but the rest of the line stays the same – why mess with a good thing? You'll also see skis with manual damping devices. Volkl's Tiger Shark carver series features a powerf switch" dial on the tail to soften or stiffen the flex by adjusting springs you can see on the topsheet. Can't tell you much about the snowboard side as I kept my head low and cruised past. Their side of the SIA floor is downright unruly – trash everywhere, loud music, shouting, smoking (it's prohibited in the Hall), kicking back on couches. Ryan wondered if these guys actually get paid to be there. It's a wonder they have jobs. The kids' market is going off. Everywhere you turn they're making mini-versions of adult lines. There also seems to be a growing number of kids-only companies like Roonwear, Outside Baby, Snow Dragon, Molehill Mountain Equipment. Smartwool showed up their new infant merino wool sock and ShredAlert had the cutest little fleece bomber hats for baby. Speaking of hats, you're finally going to see some updates. Perhaps recognizing that most people wear helmets skiing and hats for Apres, next year's hats are fashion plates. Turtle Fur's new FU-R line is skate-inspired and more attention-getting than their old-school style brethren. Suede, faux fur and embroidered flowers adorn the styles.
At OR specifically, recycled fabrics were all the buzz. Patagonia just announced a new program to take recycled polypro from any company (not just theirs), ship it to Japan to be recycled and made into new Patagonia wear. I also noticed manufacturers common to the NY fashion scene, debuting at OR; especially footwear companies. Lots and lots of shoes at OR this year. Maryjanes are huge for next fall. Ecco, Merrell, Dansko, Keen, El Naturalista all have their ruggedized version of the MaryJane. Plus, the traditional hiking footwear companies have added fashionable, calf-high boots for everyday wear.
Another big trend for this summer through fall- the running skort. Sorry, Guys. When the runner chick bends over you get to see NOTHING.
My last observation: companies that seem to have no connection to outdoor recreation hosting boothes and writing orders. Yellowman, for instance, uses tatoo artists from around the world to create designs on long- and shortsleeved Ts. I doubt they would compete with a Duofold baselayer for functionality but they looked pretty cool. Cass and Co., on the other hand, had a great concept of supportive, seamless undergarments made with copper to not only keep the fat rolls from showing under your tops and bottoms but also to tone and stimulate. Anti-aging clothing! That's about it from the floor. Most of the new innovations are still in prototype form. We won't see the final versions until the fall. I can't wait!