Happy Holidays!

Time flies and we just closed our second Christmas with Sage.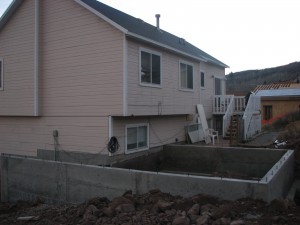 Where did October and November go? I could have sworn I blogged at least once those months but then I'm slightly brain fried since beginning this construction project. What the hell was I thinking?? Starting a new addition in the winter?! The guy I hired to draw my plans- IN MAY- didn't get them submitted to the county for approval until OCTOBER. By then, the guys I had hired as my contractors totally flaked and stopped returning phonecalls. I decided to scrap the project until the spring but then my friend Steve Weinstein, a local Park City contractor, made me an offer I couldn't refuse- being that I'm fiscally conservative and all. He would oversee my project by phone and only charge me for days he actually had to show up at my house. I would handle everything and he would translate for me so that I understood what needed to be done and how to do it. Basically, he would be my consultant and I, the contractor. Insanity.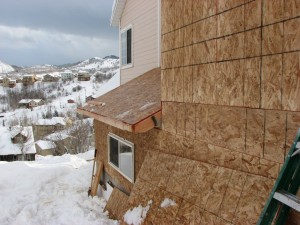 All of a sudden, I'm fielding phone calls, bids, inspections, material deliveries and charges. I get fun little surprises like hearing that the plans I paid $2k for were scrap paper because the designer failed to locate the septic tank before crafting his masterpiece. Steve redesigned on the fly and didn't really charge me because I hired his crew to excavate and frame. Today, Aspen Roofing is laying shingle and Aron (Steve's laborer) is sheeting the exterior for siding. Don't I sound like a construction guy? Pretty cool learning a whole new industry. I can't say I won't leave the job to professionals the next time around but I have saved some $5k so far even with the extra surprises – moving the septic tank cleanout location, the 10feet deep hard stone that had to be jackhammered for a week before they could excavate my backyard, my phone line getting sliced (Qwest raped me of $400 just to run a longer cable and connect wires!), paying a very nice Bosnian to cut part of a concrete wall that was in the way of framing ($550). Oh, and then it started to snow! Propane heaters to melt snow from the concrete and warm workers' hands and feet; trucks that couldn't make it up I-80 for deliveries or up my icy driveway.
The holidays sent this place into ghostville but we're back on track today. The goal is to at least have my guest room back to liveable so friends can stay over. Keith says if I let him crash here, he'll tile my new bathroom for me. Not a bad deal. And no, I have yet to tear apart my closet and bathroom for this remodel but, oh won't that be fun!
When it's all done, I will have a HUGE office and Sage will have her very own playroom. Right now I have divided my office via babygate. She gets half and I get half. With all her new holiday toys, however, there's no more room for me. 🙁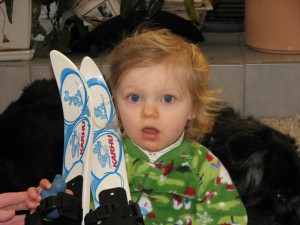 She got skis from Karhu- little ones that strap to her feet so she doesn't need to wear ski boots. They have a herring bone pattern on the bottom so she won't slide backward. Once it warms up (we're at 6 degrees today) we'll go out and shuffle around. If she's really a daredevil, we'll slide down my driveway!
My parents sent her a Teddy bear bigger than she is and we got her a Leap Frog activity table she can't stop playing. Ryan's parents sent her a ski suit and lots of other little goodies for the tree. I know we're Jewish but you can't deny a small child the pleasures of wrapped gifts surrounding nature (indoor nature :)). My dad didn't take the news of our Christmas tree well. But I swear Sage will get her Bat Mitzvah in 13 years.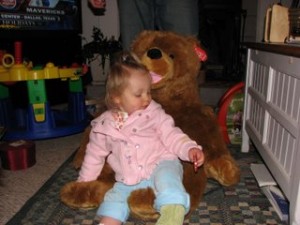 The skiing has been great. I've had friends in town for the past week and we've been tolerating the temps for the freshies. A couple in the group got hurt but merely flesh wounds. They'll be skiing again full steam in a couple of weeks. You have to be on alert when it's early season. Your body isn't as catlike as it is by mid-winter. More snow is on call for tonight but today has been clear and sunny. Perfect Kodak day. I prefer tomorrow's forecast. Snow snow snow. The sun messes with your skin.
I better get back to work. Lots to do and workers to manage. 😉 Don't call me if you have a construction project- although I have lots of good people to refer. BTW stay away from a company called KJ Builders. Concrete guys that will rob you blind. Luckily, I sniffed out the scam before I lost $2k. They want half up front then never show up to actually do the work. Lou Dellapena did the job right without an ounce of anxiety.