Sundance. Bring it!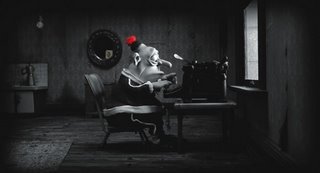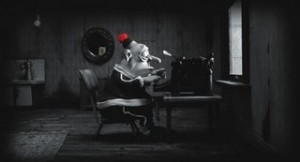 Mary and Max
Live in Livs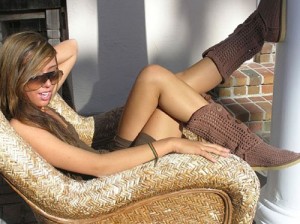 I headed to the New Frontier on Main at noon today with the promise of a 'luncheon' and a ticket to the Fest's Opening Press Conference. We journalists love our free food and the promise of easy entry into the party. The lunch consisted of sandwiches slathered with dressing so I opted for a tiny cup of squash soup and half a brownie- enough to take the edge off while I canvassed the underground venue at the top of Main Street. The space under the Main Street Mall has been transformed into an underground techno nightclub looking place with performance-art-meets-the-web exhibits. It's free and open to the public so you should definitely stop in. There were journalists from every corner of the world sneaking bites in between note-taking. You could feel the buzz as we anticipated the Fest's kick off. How eventful will the next 10 days be? Will the celebs come? Will no-name films sell for millions? Who will create the wake Paris Hilton used to at the parties? Will there be big parties during this celebration of American independent film?
Most of them were friendly; a little reserved, maybe, but willing to mingle after a bit. As I scooped ice into a glass, I turned to see Sean Means, a local film critic from the Salt Lake Tribune. He gave me a quick nod before gazing down to my pass. Guess his Express Pass trumps my General Press Pass and he quickly backed away, afraid he might catch what I have. It's funny how some press actually think theyre more important than the subjects they cover. Or maybe I intimidate him. Yeah. That's it. But I'm not the one who stands up in front of a crowded theater and yells for everyone to use library voices because "some of us have to work here." We're all just doing our jobs and I'm sorry, reviewing films is not the same as solving the world's economic crisis or inventing the next Facebook. It's simply a fun, cool way to make a living.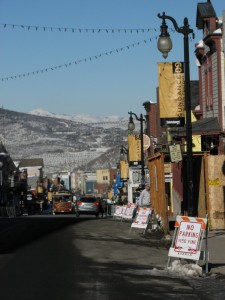 Whoa Is Parking
15 minutes until the Opening Conference across the street at the Egyptian. The clock was ticking. I had hustled up to Main thinking to grab a vacant spot on the street when I saw the no parking signs everywhere. Both sides of Main are loading only and lower Main is pedestrian only. Sure, you can park in a lot on Swede Alley -if you can find a spot and are willing to pay $20. Luckily, the Wasatch Brew Pub lot was still the normal $1/hr today (Thursday) so I slimed in. Tomorrow, when the Fest hits third gear, it'll be a different story. You probably shouldn't try to get creative this year with your parking. The City needs revenue so they'll be out for parking ticket and towing blood. Best bets are to park in the City Park or ski resort lots and ride the bus to Main. Hitching is also an option, and you get to meet some pretty cool people along the way. If you're coming up from Salt Lake, don't even bother treading past Redstone. Park in the Park n' Ride near the Olympic Park and catch the free Express Bus.Today's calm makes you wonder whether turmoil will ensue or we're over-estimating the sitch. What I mean is, maybe it won't be crowded this year. Maybe the economy, Prop. 8, the brilliant sunshine baking what little snow we have will keep the east and west coast hoards at bay. Someone asked Robert Redford at the conference about the economic climate and its effect on Sundance. "Art will always find a way," he said prophetically. Geoffrey Gilmore, the event's director said that ticket sales were ahead by substantial numbers and that they were pleased with the sponsor dollars they've received. "We're weathering the crisis," he added. The times certainly didn't stymie filmmakers. A total of 118 features (chosen from 3,661 submissions) will screen over the next 10 days.
Sundance's "Housing" Market
Rumors, on the other hand, speak to a lower volume of film sales in 2009. Variety Magazine predicts that film acquisitions will fall below last year's $15 million mark and that was significantly lower than the $45 million spent on independent films at the 2007 festival. Walking Main Street today, there also looks to be quieter times for what Sundance organizers call 'ambush marketers '. "In recent years, Sundance Film Festival has been overwhelmed by organizations without an official relationship to us who target festival attendees with their swag houses, lounges and nightclubs," said Sarah Pearce, Director of Festival Operations, Sundance Film Festival. Sundance nabbed a prime location once called The Village at the Lift on Lower Main Street and turned it into "The Sundance Lift". The area will provide space for press junkets and filmmaker events, free from gifting suites and other non-film-related activity. "Our hope is that it will send a message to those hangers-on who do not support the Festival," said Pearce. With VAL gone, that leaves The Village at the Yard (Anderson Lumber's space on Kearns Blvd.), the Style Lounge, The Hollywood Life House, Moving Pictures Magazine Media Lounge, House of Hype, Sephora Lounge, Gibson Lounge, and the Rock Band Lounge. About half the players of last year.
But those gifting suites are so cool! How else would I stay 'up' on the latest rocker fashions and hip gear? Certainly not by living in Park City where 'dressy' means 'no jeans.' Those suites happen all the time at Hollywood events like the Golden Globes and Academy Awards; even at the Superbowl and the X Games. I understand that Sundance is meant to be free of issues like the bottomline but those of us fashion don'ts like to see what walks our streets of Utah in January. I poked my head into the House of Hype today on an invite to visit their sponsors. Livs (livs.biz), the original crochet boot that UGG apparently blatantly copied, was in full gifting mode and I picked up a pair of cute and extremely comfortable pink boots with buttons down the middle. Even with the 'venting', my feet stayed warm and dry outdoors. I kind of felt like I was cheating though by wearing slippers as shoes- that's how cush they feel. I met with members of the Philadelphia Film Commission in the back room. About six films at the Fest were shot in Philly, they figured this would be a good year to draw more attention to their location. True Philly cheese steak sandwiches will be flown in for VIPs Friday- Sunday. Downstairs, I checked out WiiMusic, Wii's version of Rock Band without the instruments but with the hand controllers, and was handed a hat designed by a woman with a boutique company called Contraband (mycontraband.com). She had been to Sundance as a guest before and decided to make hats and tanktops for the rocker market. Upstairs, I snagged a seated massage and had the girl work in some Nivea lotion. Our dry air brutalizes my hands. Nivea and its brother Aquaphor are in the House showcasing their products; perfect for our climate. One, a new body firming gel called Silhouette, I can't wait to try.I thanked everyone for their hospitality, grabbed a cup of Coffee Bean and Tea Leaf coffee imported from L.A. and headed over to the Yarrow for the opening night film. Mary and Max was a somewhat warped, funny and sad tale of a 44-year-old, obese New York Jew with Aspberger's Syndrome who befriends an 8-year-old penpal in Australia. Done entirely in claymation animation, this is no Disney film. Not even close. Mimes die from falling air conditioners, gold fish get toasted in a toaster, moms drink embalming fluid and Max farts. Still, the message of friendship and acceptance in a bleak judgmental world will touch many hearts and the painstaking craft of animating this 92-minute feature won't fail to astound audiences.
It's late and I'm back at it again tomorrow. Did I mention that I saw the members of Hoobastank as I left the House of Hype? Bet they're playing in town somewhere this week. Later!