Sundance Day Two, Part Two (Friday)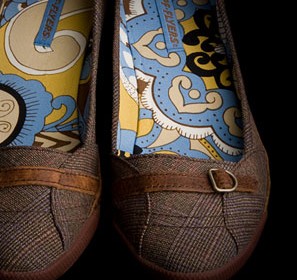 The House of Hype brought to you by The Hard Rock Hotel and Casino offered a darkened corridor, cocktail waitresses and a live DJ as you strolled the avenue of sponsors from Goodyear (no tires just cans of Tire Shine and Hotwheels toy cars) to USA Golf and Havaiana Sandals (create your own flipflops). As I crafted my Mongolian Barbecue Basket Shoe at the Puma booth, I felt the heat of cameras and fans. It wasn't for me; ha ha. Sandra Oh (Grey's Anatomy) was in the house; picking out her own set of Pumas. Josh promised my custom sneakers would be shipped by the end of the month and I got out of the limelight by scooting over to Oakley. A pixie-like, cool chick named Chelsea handed me a pair of their new Breathless sunglasses. Olsen twin glam with the technical specs of a true Oakley. They definitely give me that Sundance 'look'. Throw in the Frye Gloria pumps (Frye is making fashion shoes in addition to boots now) and my Utah friends might not recognize me.
The style continued at The Boost Mobile Lounge at The Marquee. The New York nightclub has once again assumed the Buddha Lounge space on Main Street during the first four days of the Festival. The boutique clients lining the swanky, intimate bar introduced celebs like Marcia Gay Harden and Rex Lee (Entourage) to Klipsch speakers, Lia Sophia jewelry, cuddly LNA "boyfriend" Tees and Primp cotton/poly hoodies and waffle tops decorated with cute little piggies, pandas, moons or sheep. I got the most fabulous ruffled dress coat from Tulle and it was a tough decision; they have so many charming styles. The bauble on my finger is a Lia Sophia original you can find only on their website (liasophia.com) or through in-home party reps, and the Boost reps insisted I put my Sprint phone in their new Boosted Device Case designed by graffiti artist Madsteez. What I appreciated more was their information on Boost Mobile itself – a Sprint division – that offers unlimited local and long distance cell calls for as little as $35 (no contract, no credit check, no activation fees) depending on your home calling area. Though this probably wouldn't work for a world-traveler like myself (you pay .15/minute outside your extended area), my boyfriend would save a ton of money and those H1 Visa resort employees will dance circles for this new product.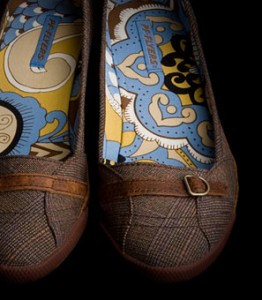 Another company with a fresh cousin is New Balance's PF Flyers. Sporty, action/fashion shoes like the Journa are the perfect spring shoe for a mountain girl. Finally, I will be anxiously waiting for a Treesje handbag to arrive on my doorstep. The collection of bags on display was gorgeous. We'll see if it actually shows once the Sundance circus leaves town.
I capped off my visit with a smoothy like drink from Lifeway Kefir. With the pro-biotic cultures for a healthier immune system, I might be able to ward off a potential hangover from tonight's parties: MySpace, The Horrors and Maroon 5.
Three hours later…..I did. The open bars stood no chance against my resilience.
As I eecked into traffic on Deer Valley Drive at 6 p.m. I said, "Screw it!" and turned around. The mess was obscene. We were at a crawl from every intersection. By the time I got home, changed and back to town it would be 9. Instead, I called Ryan, asked him to bring my Fox Girls top, parked at a friend's house to do my makeup, and met him on Main. Just in time to watch the ambulance haul away some guy who had tried to steal a plasma screen from the Main Street Mall but wound up plunging off the balcony of Shabu in his attempt to flee. I heard later, he suffered only a concussion. Of course, he was also under arrest.
At the Horrors screening of their documentary "Counting in Fives" at The Marquee, the champagne and Maker's flowed. We sat down behind Jared Leto in a dorky bomber hat, spying on him as he hobnobbed with the punk band members. The flick itself wasn't really my thing (I'm not into punk nor rockumentaries) but I appreciated the scene. I guess the parties on Friday overloaded city circuits and the power went out all over Main Street. The blackout lasted more than 20 minutes- enough time to sneak next door for the Maroon 5 show at Harry O's. No one paid attention to us because we randomly happened to have the same color wristband as their guests. I almost wished we had been bounced. The band played well but crowd was overwhelming. The only celeb (?) in sight was Ian Zering. I kept silently wishing someone would call the fire marshal- it was that packed. We got out at 1 and headed over to the T-Mobile Diner at the VAY. Live music wafted amid the yelps from drunk snowtubers outside. We entered and bee-lined for the tureens of gourmet mac n' cheese, apple crisp and chocolate bread pudding. Former model Rachel Hunter, with fuller hips, stood nearby with friends. Eventually it was time to head home but this time there was no traffic. We hitched and a nice woman from L.A. picked us up and brought us to Ryan's car at Kimball Junction. You gotta love small towns. Stay tuned for Saturday's update, the people, the parties and the ginormous Sundance attendance thanks to the writers' strike.