Three Fests in One

The way I see it, Sundance is really three festivals. There's the film part. You go up to Park City, have a movie marathon until your butt can take no more, then you take a couple of pain killers and keep watching. With screenings from 8 a.m. until 11 p.m. you can be scheduled out the entire time. There's the party part. This is not an all day thing but rather an all night thing starting at around 4 p.m. each day. Every movie has its premiere party; every production company like IndieVest hosts a party, often, companies like Kenneth Cole, Gen Art, and Vitamin Water do it up big- usually at private homes where they can go till 3 a.m., take some painkillers and keep partying. Hence, you are wasted for any of the daytime activities; and then there is the gifting part. An all day traipse up and down Main Street, hauling paper or eco-friendly sacs a forearm thick.
Sundance organizers frown on gifting as they see it disrupting the creative process and turning their event into something of a corporate commercial enterprise. Plus, those doing the gifting are outside the sponsor realm. Marketing firms set up "houses", "lounges" and "suites" around Park City and rent out booth space to boutique companies, promising their products exposure from A++ celebrities and media attending Sundance yet they don't give any money back to support the Festival itself. Plus, they're terribly exclusive and off-putting to the average festival goer.As I sat next to Jeff Best at the MySpace Cafe in the Village at Sundance, I heard him lament about the transformation of his brainchild. Best Events took the Town Lift project and turned it into a mini Hollywood gifting village for four years, dubbing it the Village at the Lift. After the same number of years of contention with festival organizers, Best caved for the greater good. After all, his number one plan all along was to show support for the film industry and if it helps everyone get along, he's willing to play nice. But while we sat munching on scrumptious cheeseburgers (better than you would get if you paid for it at the actual restaurant taken over by MySpace for seven days), and the paparazzi angled for a better shot of Paris Hilton in the booth behind us, he dropped his head and spoke about the financial hit he took. "I had sponsors in line for this year but when I told them they also had to be official Sundance sponsors as well (and pay the official pricetag and no gifting allowed) they backed out," he said. It's often too much money to go mainstream with not as much promise for celebrity exposure.They found other places to go- Fred Segal, one of the VAL's anchor 'stores', joined the Village at the Yard on Kearns Blvd. for five days of gifting products you typically see in their store- Retro Brand with their vintage sports team and college logo T-shirts, skate and urbanwear by Hurley, George, Gina and Lucy eccentric yet chic handbags, Undun eco-denim, Nightcap primo cottonwear. K-Swiss shoes and more. The Yard also started their own café courtesy of T-Mobile. Nickelodeon nabbed some first-class acreage across from Fred Segal to celebrate the 10th Anniversary of SpongeBob Squarepants and next door to them was drugstore.com, gifting travel essentials like bronzer, shampoo, Advil, Alka-Seltzer and Chapstick. Living Proof showcased a line of no-frizz hair products by having stylists blow and style your do. I had a brief conversation with Eliza Dushku (star of the new series Dollhouse) about snowboarding in Utah while they primped her for her movie premiere. She says she'll be skiing from now on as she's not too keen on pain. The conversation started because she noticed my luscious Scope Zip Hoody from Oakley and said she picked out the exact same one at the Oakley House during their Learn-To-Ride event over the weekend. Yep. I was there.
Oakley organizes these Learn-To days for celebs and VIPs who want to learn a sport from snowboarding to motocross without the hassle of going through the public process. It's an intimate setting with Oakley products and athletes and a one-on-one introduction to both to ensure they have a positive experience.
Singer/songwriter Kelly James escorted me onto the bunny run at Park City Mountain Resort for an unofficial snowboard lesson. He was a sweet guy; extremely patient. He spent a few runs with me and then kicked me out of the nest. Luckily, I had already had time (last year) with a 'real' instructor at Brian Head and the few great tips Kelly gave me made sense. I felt sorry for Eliza as she should have had a professional instructor first and not a professional boarder. Those who 'can', can't necessarily teach. But whether we could ride, we sure did look good.
Oakley's gifting centered around the Gretchen Bleiler signature line of women's snowboard apparel. The line, designed by the 2006 Olympic Silver medalist and S Games champ rocks. It fits flatteringly well, the colors pop, and the details make sense for the most part (except that I wasn't wild about the giant belt and buckle at the bottom of one of the jacket styles). Even her signature goggles sit well on the smaller frame of a woman's face.
Beyond the Oakley House (which was located way off Main in Park Meadows), some of the usual suspects still turned up on Main.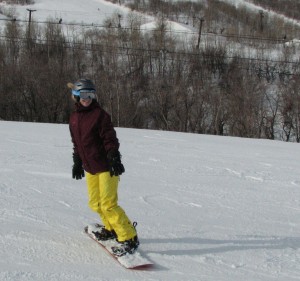 In order to try to get a little taste of all that is Sundance, I find myself like a chicken with its head cut off; running in all directions, not sure where to go next and just missing someplace I 'should have been.' The horrific traffic doesn't help. The police have blocked off Heber Avenue so there's no way to get from Park Avenue to Deer Valley Drive without heading up Main Street.
(Look, Ma, I'm snowboarding thanks to Oakley)
Coming down Swede Alley or Deer Valley Drive is the nightmare-especially if it's past four.
Avoid, avoid, avoid driving in Park City right now and park and ride the bus. You also need to get creative. I went into the Yarrow and was able to find a hotel guest who gave me his parking pass. Another girl I met, whipped out a handicap pass and her cane for VIP parking. A taxi driver picked me up after I stuck out my thumb. I got in when he said he was going my way and wouldn't charge me. Turns out he and his son are driving for his friend's cab business and pulling in $400 a day. Next year, I'm coming back as a cabbie!
I've set small goals for myself. Two suites a day, one movie a day and one party a night. So far so good. And lucky me, each movie has been noteworthy- Moon, Humpday, Max and Mary, September Issue and Adam. Both Moon and September Issue had been flukes. I showed up at the theater expecting different films but they had been switched last minute. September Issue about the making of Vogue's Fall Issue impressed me with its storytelling, infusing warmth into Editor Anna Wilson a compact woman with a cold as ice reputation. Moon, with Sam Rockwell, was supposed to be Castaway in space but instead turned out to be a compelling sci fi tale about a man whose last weeks on the moon turn into a nightmare of diabolical discoveries and thoughts on the humanity of man and machine. There's more to tell but I must get some sleep.
FYI, the major push for the Fest is over now and though the coming weekend will bring another rush of celebrities, it'll be nothing like it was last weekend. Now's the ideal time to see a movie (lots of tickets are still available) or get into a party. Chat chat chat. That's how. We went to a party for "Carmo, Hit the Road" Monday night and a woman handed us invites to the closing party at the Queer Lounge on Wednesday. Earlier, I ran into an old friend from my Deer Valley teaching days who promised to get us into the Kodak party Tuesday night. The parties are last on my to-do list but may be first on yours. If so, get some sleep, dress warm and hit the pavement by 4 p.m. for the intel.