Off To Fruita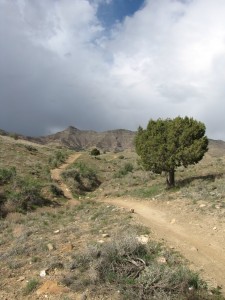 Survived the longest tram line in history on Friday, skied insanely deep snow on the last day of April and the night skies are clear. We've got some lovely mountain biking in Fruita, Colo. this weekend.
Just checked into the Balance Rock Motel– it's quiet, clean and perfect for an early rise and shine. We had planned to 'rough it' but the weather turned nasty this week. The ground is a tad wet and Sage has a wet cough. Though she's in good spirits and was really looking forward to camping, I decided to do the responsible parent thing and stay in a motel.
There are only a handful in town (more in Grand Junction) and with the Fat Tire Fest happening this weekend, we got lucky. Three rooms left at the Rock. We were pleasantly surprised with what our $50 bought us. The intermittent refrigerator whir is a bit disruptive but other than that, the bed is a king, the room is clean and smoke free and there's plenty of room to stash our bikes. It's pet friendly for a price but Tenaya's fine in the car. I'm just psyched that Ryan agreed to bring her along. The old girl doesn't get out much but this is the perfect roadtrip for her. Since one of us will be with baby Sage at all times, Tenaya can hang at a slow pace. She doesn't have to run on the trails or stay by the car. She also doesn't need to worry about over heating. It's cold! 29 degrees tonight.
Though there are ample camping spots throughout the area, it's convenient and smart to stay in a motel when the ground is wet and the freeze cycle is still spinning. The days are forecasted in the mid 50s and partly sunny. Ideal riding weather. Ok, I'd prefer 60s but at least it won't snow on us.
We left SLC in the middle of the storm. Snowbird had the best two powder days all season and I got to ski this morning. At 6:30 pm we were driving to Price. At 11 pm we had made it to town. Despite the Fest, the place was quiet. All closed up for the night. We saw stars. Loads of them. Whew. The dark streets slapped under our wheels from the dusk rain. I best sleep now. We've got a busy day ahead. Glad to be here. I like these crossover spring weekends.