Orlando Day 1- No Disney Just Dizzy

I now know how a black person feels when they visit Utah. Our first night in Orlando and my dad picks a place called Mama Nem's for dinner. The soul food restaurant in a strip mall about 20 minutes from our hotel (the Marriott Grand Vista) came recommended. By whom I'm not sure but there we were; hesitantly shuffling past a sranding-room-only waiting area of black people all staring at us as if we were lost. Two white seniors, two white parents and a little white girl who kind of looks like the All-American Kid. The only white people in the entire place! We held our heads high and waited to be seated. It was like that scene in Animal House just before the guys come up to Boone and say "Do you mind if we dance wif yo dates?"
Everyone was extremely nice; the hostess grabbed a piece of melt-in-your mouth cornbread for Sage while we waited. After about 5 minutes, however, mom was visibly uncomfortable. Let's go, she said. It was the wait not the company that bothered her. They had caught the redeye from San Diego to Orlando last night with very little sleep. The hostess had said it would be another half hour….until we offered to seat Sage in a high chair at a four-top instead of a bigger table. All of a sudden it was 10. They didn't want us to leave!
The restaurant itself wasn't much. Zero atmosphere. WE were the atmosphere- for tonight anyway. It was hilarious. But when I tried to take a photo of my parents from across the table. Ryan stopped me and said it was rude. HUH? He accused me of trying to take a picture of black people (like when I took a photo of these girls lined up in bikinis outside of my acting class just because I'd never seen anything like it?) OMG could he be serious? I take my camera everywhere and I shoot it everywhere- including dinner. Tonight I told him that he was the rude one for making me act differently just because we were in an all-black restaurant.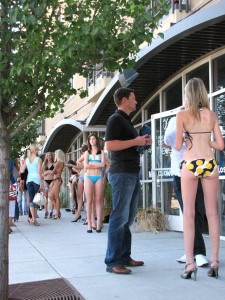 Bikinis on Main
The food soon arrived, piled high on the table. Collard greens, fried green tomatoes, mac n cheese, fried chicken, ribs, corn, fried shrimp, mashed red potatoes. All of the usual heavy southern foods. The sides were on the money, the main dishes not so much. The ribs held very little meat and our chicken was dry- Sage took one bite of her drum stick and handed it to Daddy. But I'll tell you- even when Sage got off the high chair and started boogieing in the middle of the room to the hiphop music overhead, they didn't rush us out.
We drove back to the hotel a bit weary from the experience. Tomorrow we test out our Disney World tickets. I got them off eBay and the seller dropped them at the hotel this afternoon. I've read the warnings and posts all over the web. Don't buy tickets on Craigslist or eBay because there's no way to tell if the ticket's already been used but the dude had near 100 percent feedback and I used my credit card. Worst case scenario: the tickets are confiscated, we buy at the gate for the regular price and I dispute the charge on my card. I've always been one of those people who had to "learn the hard way". We'll see what happens tomorrow. Wish me luck!